Tidal have announced and launched MQA Masters now across all Android OS from 5.0 upwards.
It announced MQA is available in it's latest Android app. The app feature is compatibly with Android OS 5 and upward.
Listening to this now… The shared office complex where I office actually blocks TIDAL, but 4G LTE is plenty fast.
TIDAL Master --> Google Pixel 2 --> LDAC Bluetooth --> Sony NW-A55 --> Shure SE846-CL.
Sounds nice, but not sure I would be able to tell the difference between this and MP3/320 on the same setup.
No gapless playback, however…
One of my favourite headphones, always use the Shure' when on the plane - absolutely brilliant! Enjoy
I was wondering this aspect as the Kann AK 15 uses the android platform for delivery of MQA on the upgraded Tidal App - my next step was to try my Samsung mobile phone for same - so this announcement makes sense, but I am not sure whether we can store the MQA versions for offline listening ??
MQA can be downloaded for offline use on my OnePlus5 phone.
I am looking for a good in-ear solution.
How good is the noise isolation for in-aircraft use?
Do you wear the wires over the ears? Is the possible?
How is the fit in the ears? Do they stay put?
Thanks.
The problem with android and iOS are they will re-sample everything to 48kHz before going to the internal DAC. In some Android phones with specially tweaked OS, it can bypass the SRC (Sample Rate Converter). Not many Android phones in the market are equipped with 96kHz capable DAC.
The only way around is to use an external portable Hi-Res DAC. Most Android and iPhones support USB-OTG, in this way one will able output unaltered 88.2/96k stream after unfold in the Tidal software.
I've tried on my FiiO X5lll music player, this is android 5.1 with specially tweaked Android OS that bypass the SRC (Sample Rate Converter). It sounds pretty good when playing back Tidal Master.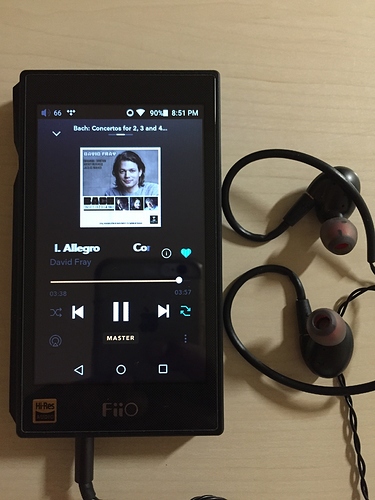 Hooked up with FiiO F9 triple drivers earphones in balanced connection.
Shure is well-known for all points you ask about, above.
I try new TIDAL Android App on HTC U11, the sampling rate of TIDAL Masters through USB output is 48Khz.
Maybe TIDAL through UAPP can provide bit-perfect USB output?
I just verified that Fiio X5III music player output 96kHz (decoded MQA) from SPDIF coaxial output to the Topping DX3Pro DAC + headphones amp. The display shows 96K PCM which is decoding.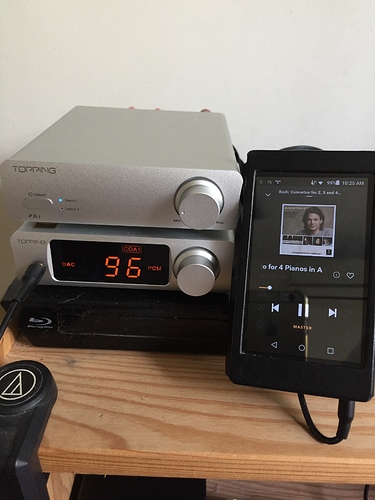 The in ear Shure 846e is streets above any noise cancelling headphones I own ( have a few including N90s, Senhieeser, Sony, Bose etc) -It is also the best I have tried in the in ear range headphones category. you will notice the sound differences when using the Shure for music on a high res player like Kann AK 15 or dragonfly with an Android device etc - The other advice would be to avoid Bluetooth for music (even the newer technology that Sony has brought to the market) will not beat the sound offered by wired headphones. Not many people like in ear headphones, the only ones that block the sound for me competently are the Audeze LCD - XC (but are not very portable to carry) but the sound blocking is not as good as the in ear Shure headphones - but the LCD sound quality is on an another level and an absolute listening pleasure - so much so the last few trips I did not watch any movies and sat back enjoying the music! -
Overall if one has to take into account portability and compromise than an excellent solution for flying, is the Shure 846e in ear headphones with Kann AK 15 which allows for Tidal offline storage and includes streaming for MQA. It not only blocks out the sound without the need for noise cancelling, it is also suits me when I sleep.