Hello all, I'm hoping that someone can provide me some clarity on some Roon+Tidal behavior.
I'm giving Roon a trial using the Black Friday 90 days for $1 deal and using the similar Tidal promotion to try it out at the same time. I used Soundiiz to pull in my old Google Play Music data to Tidal, so it's starting out populated with data. Great, things look pretty good on the whole, other than a few network issues with Android and the issue that this post is about…
My issue is that if I have a liked track in Tidal it makes that track's album show up in the Roon Albums view. This is not at all what I'm after with an "album" oriented view. I want to go quickly find a whole album and play it. I listen to maybe 50/50 full albums and random genre/related type shuffled lists of varying sorts.
The problems that the current behavior give me are as follows:
(1) I get multiple versions of the same album showing up side by side in the view. As best as I can tell, this is because the Tidal album is perceived as only containing my liked tracks and so has a different number of total tracks and doesn't match my local copy of the album. If I like the Album itself in Tidal (in addition to or instead of the tracks), then this problem disappears.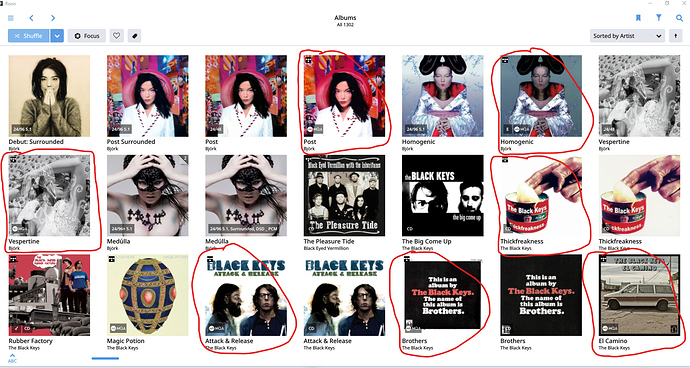 (2) If I Right-Click > Play an album that shows up because of a liked Tidal track, then it only plays my liked track. I never ever want this. Never ever. If I'm in the Album view it's because I'd like to play an album.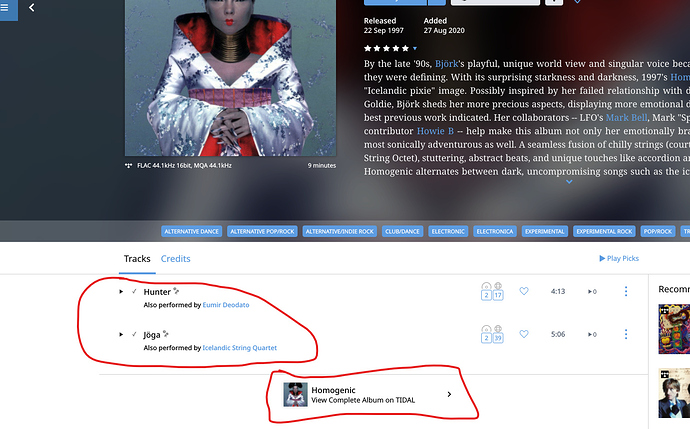 (3) I get junk Albums that I'm not at all familiar with cluttering up my Albums view (same for Artists view, but that bothers me less). This screenshot is a little worse than average because it's got the Various Artists albums there, but it illustrates the point as the only albums I actually want to see in Album View are the Venetian Snares albums and the HDTracks sampler)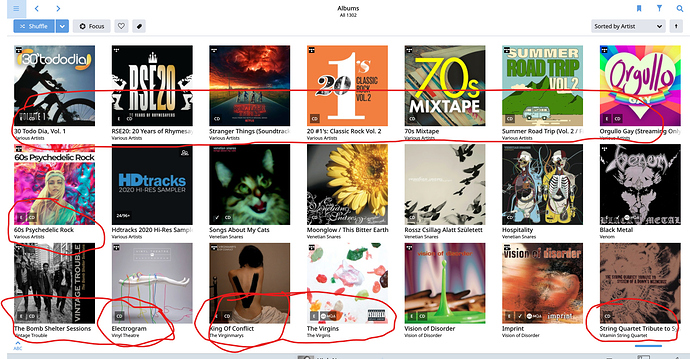 I've googled my way to a few other previous posts related to this behavior and as best as I can tell, this seems to be the desired behavior for at least some people. But it's really killing my ability to enjoy Roon. I'm excited about the prospect of Roon + Tidal or Qobuz, but if I can't get a decent albums view setup it is really tough to justify the cost of Roon.
So now that I've complained and rambled on for a while…
Are there any solutions to my album view related issues within Roon currently? I don't want to spend hours retagging things in Tidal or adding Roon tags to create some weird sort of hack.
Is this something that has seen traction in other threads and might be getting some development attention currently/soon (but isn't showing up my search results)?
Thanks for any tips or other helpful information!
-Jon