(Operating system/System info/Roon build number)
Windows 10 v2004, Asus Z390, Roon v1.7 build 610 stable
Network Details (Including networking gear model/manufacturer and if on WiFi/Ethernet)
Asus Router/Wi-Fi. Core on Ethernet, HomePod on Wi-Fi AC 5.4Ghz
Audio Devices (Specify what device you're using and its connection type - USB/HDMI/etc.)
Roon on Core -> ethernet -> router -> WiFi -> HomePod
Description Of Issue
Roon "sees" homepod on network and creates an airplay audio device labeled "AudioAccessory1,1". I enable the device and go to settings :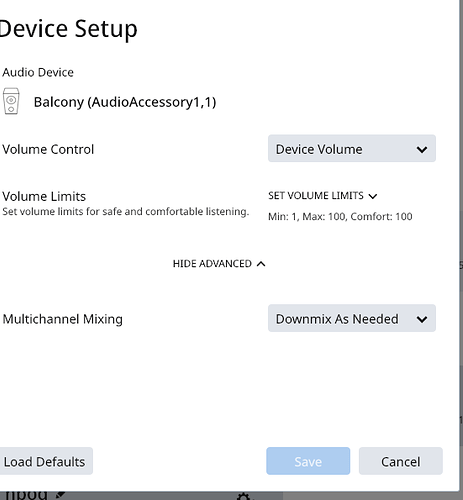 When I try to send audio to the device, it appears to start playing but the time does not advance, nor does any audio/sound come from the homepod.
I can send music from other apps on my iPhone or iPad, e.g., Qobuz, Amazon Music, etc.
I have reset the homepod several times and tried various things w/out success.
Help appreciated.