Core Machine (Operating system/System info/Roon build number)
Roon Nucleus Roon Version 1.8 (build 764) Stable (64 bit)
Network Details (Including networking gear model/manufacturer and if on WiFi/Ethernet)
Arris Surfboard DOCSIS 3.0 Cable Modem and WiFi Router connected via ethernet to Linksys MX 5 Velop AX Whole Home WiFi 6 System
Nucleus connected to Linksys MX5 via ethernet
Audio Devices (Specify what device you're using and its connection type - USB/HDMI/etc.)
Nucleus connect to Lampizator Amber 3 via USB
Description Of Issue
I can not access new music in Tidal. When I select album not in library I get the below message.

I am not sure this has anything to do with it but it is spinning like adding music but nothing to add. Also error message Metadata improver: Halted. Ronn needs software update.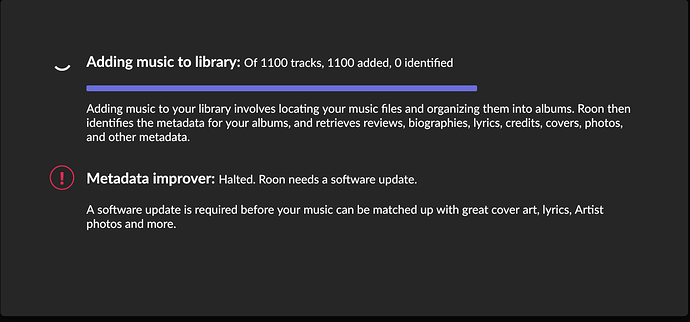 I have tried restarting both routers, I rebooted the nucleus and installed from update. I have logged out out of Tidal and reset password. Resetting Tidal password worked for a few hours but next day same issue. I can access all Tidal albums on my phone. I am not sure what else I can do at this point.
Todd