System:
IsoTech Power Conditioning
Naim NAC-N 272
Naim NAP 250DR
[LP using Linn Sondek and high end peripherals. Revox reel to reel. Nakamichi cassette]
Endpoints:
Naim DAC-V1 connected to 'Armchair' PC using Audiophilleo
Naim Muso QB 2nd Generation
Roon Bridge to NAC-N 272 via NUC i5 and Arcam irDAC (digital connection)
Direct from 'Armchair' PC to NAC-N 272 via TOSLINK
Roon on 3 PCs, 1 laptop, iPhone and iPad Pro.
Core on QNAP TS251+ with external SSD.
Fully wired network to all points using Netgear NightHawk router and various switches. UPS in key points.
Question:
I've been using upsampling for a while now and found myself experimenting with the settings again.Not sure why; just tinkering. Rather glad that I did…
When I first used it, if I turned it on and off, there was a brief silence and Roon Bridge would continue playing after the system settled using the new setting.
Now when I try turning it off, Roon goes silent and the Bridge reports no connection. The same thing happens if I turn the current streaming rate back to default. If I return it back to the previous upsampling rate and/or switch it back on again, Roon continues to play.
What's happening here? It now seems that in order to continue using Roon Bridge, I have to be using upsampling. I've tried stopping and re-staring the Core: no difference.
Also there seems to be two entries for Sample Rate conversion listed: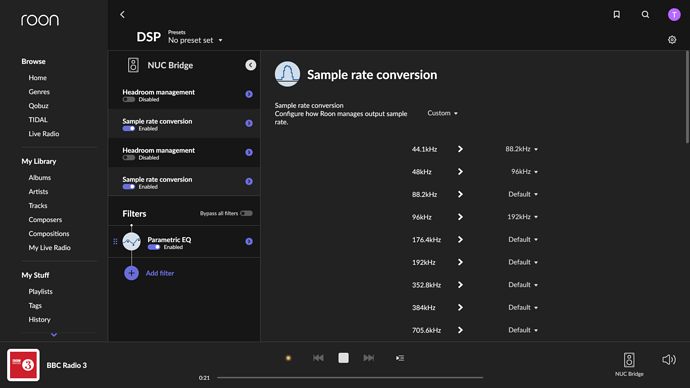 Any ideas?
Tim Green