Hi,
Would it be possible to show One of the Album Pictures if An Artist does not have default picture?
For example:
I have 5 Albums from Anglagard that have picture, and one of the Album, Hybris is even identified by roon. However the artist page does not have any pictures in it. Is it possible to have it auto populated from one of the Album?
This is the Artist Icon: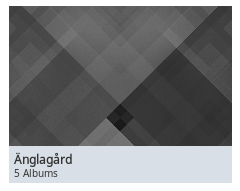 The 5 Albums I have:


The Album Hybris is Identified by roon.


I also tried adding a picture through the Artist's edit page. Can we add "from album" as additional source besides drag/browse/paste url?
Thanks
–bastian