Just add or correct your own metadata & have Roon use it. It can't take more than a few minutes to fix. Waiting for Roon dev's to fix metadata it has incorrectly found (for reasons unknown), will take much longer.
Just a thought…
Cheers.
There are several versions of this CD. It is not just the Four Seasons that is a problem but also the pairing with 2 or more (depending on CD version) of the L'estro armonico concertos.
As it happens on Qobuz, depending on which Four Seasons concerto there are 17 to 39 other performances which have also been categorized as "sonnets". Not only Henryk Szeryng but arguably his even more famous poetry reading colleague Yehudi Menuhin as well

. Can roon fix this at source please?
Whilst waiting, the work around with works as famous as the Four Seasons concertos is that it's likely you have other properly categorized performances and these can be 'merged' in the composition editor to give you the correct categorization. There are limitations though. If you prefer your Four Seasons as a single work rather than four separate concertos, you cannot manually change this if your album is a streamed version as roon does not provide the same work/section/part editing features you get with local content.
With the L'estro armonico Op. 3 concertos it is the opposite problem. Op. 3 has 12 concertos. On this disk are RV 356 (no. 6) and RV 230 (no. 9). Other versions of this disk have different numbers of Op. 3 concertos. Roon categorizes them all as Op. 3 rather than Op. 3/6 and Op. 3/9 etc. I prefer to keep these concertos separate, especially where there is not a complete set of 12. Can roon also fix this at source please?
All these comments apply to this 2018 version of the CD as well. In this case there are four (from twelve) of the L'estro armonico concertos. These are all are categorized as Op. 3 rather than Op. 3/8, Op. 3/6, Op. 3/9 and Op. 3/10. With streamed content I cannot see how to manually fix this as there are not the same editing tools available as with local content.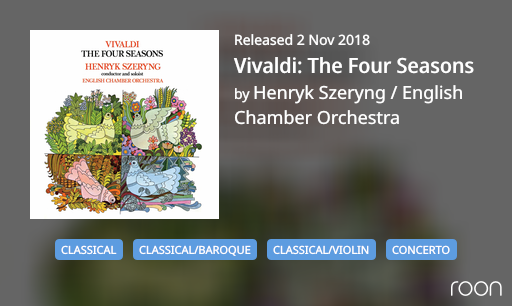 I took this version. I couldn't find my original CD in the metadata. It is one of my oldest from the early 90's.
but I also have problems with newer CDs. Current with symphonies by Kozeluch. There the first 2 symphonies on volumes 1 & 3 are identical. What a shame
any news on fixing that "sonnet singing" of Vivaldi's Four Seasons?? I am having the same problem as described by @tripleCrotchet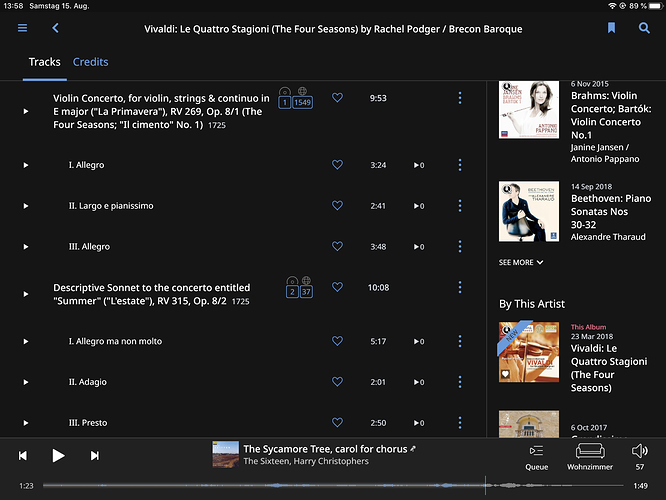 Hi @bbrip & @tripleCrotchet — This is a good example of an area where we are actively trying to do better. We've added this example to our test cases for upcoming improvements to confirm that this gets resolved. We can't provide any specific timelines, but we aim to make this entire class of issue, not just this one example, better in the future.
Many thanks @dylan for prioritising this. Much appreciated.
This is wonderful news. Will be a big upgrade from my point of view.
I will only get excited once this - and many of the other issues - are really fixed. Seen too many promises not delivered…