Anouar Brahem
Barzakh (1991)
Anouar's first ECM recording is likely often forgotten by those that have only heard his more famous recordings. Essentially sparse instrumentation, much of the album is quite understated, though not without moments of virtuosity. Roon tells me it has a DR of 14 indicating an album with considerable silence and space. In some ways this album is closer to his traditional Arabic roots. It's a fine way to start off a Sunday morning with a coffee.

Anouar Brahem : oud
Béchir Selmi : violin
Lassad Hosni : percussion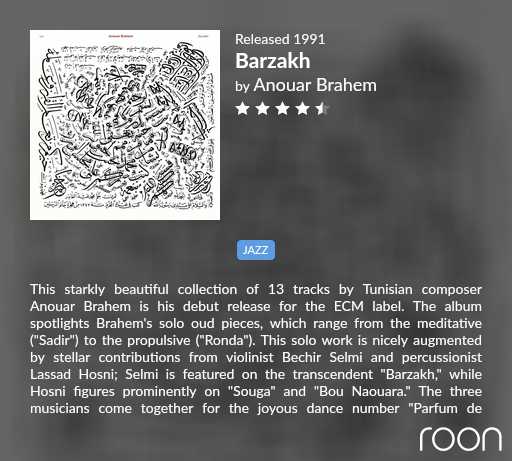 Ken Nordine
Colors (1966)
The voice of a generation (or two)!
"You know if talk was criminal
You'd lead a life of crime
Because your mind is on vacation and your mouth is workin' overtime."
Mose Allison
I Don't Worry About a Thing (1962)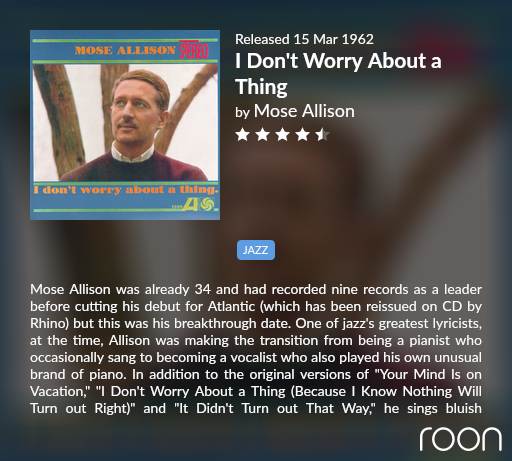 (Dr) Lonnie Smith
Turning Point (1969)
Lee Morgan -trumpet
Bennie Maupin - tenor saxophone
Melvin Sparks - guitar
Idris Muhammad - drums
Julian Priester - trombone
Not his best 'soul jazz' album, but with such a lineup you know there's gonna be some top tunes.
Gorgeous start to a Sunday morning. Heading off to work soon, but time for Laura Veirs and coffee. Happy days.