And a fresh one for the month of August.
Enjoy it folks

Rocking you tonight was just a title I chose to differentiate between this and the listening thread.
In all honesty anyone can post any genre of music they like here.
If it moves them and they like it we want to know all about it!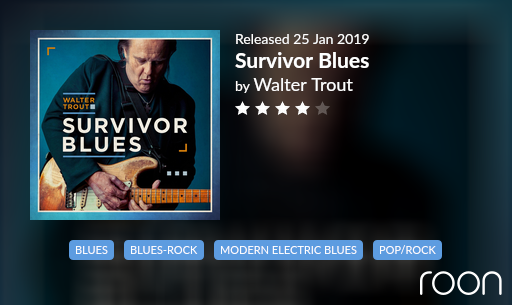 Walter Trout does not get enough recognition IMHO.
Him and Tinsley Ellis are usually top of my picks for good modern electric blues.
Tidal describes it as punk metal…lol.
Sounds interesting and have added it.
And that's streaming for you…
I just noticed that ALL of Inglorious early albums have vanished from Qobuz
And yet all the singles are still showing, that's just weird because if it was a rights issue then all the singles should be gone as well.

Guess I can add all the singles then merge them all into one "album" for now.
Gee whiz thanks Qobuz

Fortunately I bought all the albums

Somewhat different to the Jeff Wayne version… Some brilliant guitar work on display from the Symphony X guitarist.
Scratch that…lol
It looks like for whatever reason I was signed out of Qobuz last night so was only seeing Tidal offerings, too tired from the Covid likely.
Anyway once I figured that out this morning there they were again so all is forgiven Qobuz, operator error
Well scratch that too.
It's a metadata issue…