After the update the small navigation dots are gone. Any way to make it back? They are really very handy.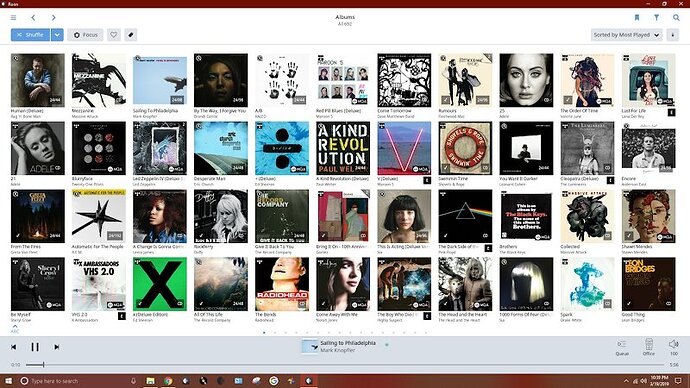 Those are for Horizontal Scrolling, 1.8 does Vertical Scrolling now, so you get a scroll bar on the right, which you can grab and quickly move around, and if you have a keyboard and are in the right sort setting, you can just hit keys to jump around.
The dotted horizontal scrolling is much easier for accurate navigating. For example, yesterday I was listening to the 4th page of the albums, and today if I want to go to that page again I need only to click or touch the 4th dot. Really wish there would be an option to choose the horizontal scrolling.
Gotcha, make sense, but it's gone, try some of the new options, you can touch and hold the slider bar on the right and in some sort modes it snows a Letter or Date, I can quick scroll up and down very fast, but I like your option of remembering where you were in the list, One option I do is use the Queue, so you could add everything, then you can always scroll up and down in the Queue and Play From Here to re-start at a location. Or if you didn't play anything else, it would always restart where you left off.
And that is one of my pet peeves, I want a Forked Queue so I can interrupt a play session, temporarily play something else, then discard that Queue and be back to where I was.
Thank you for the tips. I am a newbie and I will explore the sea of options.