I can't really go into detail here about the various ways Roon just doesn't find albums that Qobuz has in plain view, as if I did I'd never get to listen to anything! But just as an example to offer up to @support tonight I wanted to find all the versions of Art Peppers "The Art of Pepper" album as there are plenty and as usual I wanted to filter out the dodgy remasters by unknown labels and find the original version from the original label - if possible.
First screen shot is of the Roon Art Pepper discography with a filter looking for "art of pepper" - I find this is the quickest way usually to weed out the various versions, as just grabbing the first Art of Pepper and expecting the version page to come up trumps is a no go - it only finds certain versions for some reason, completely ignoring others.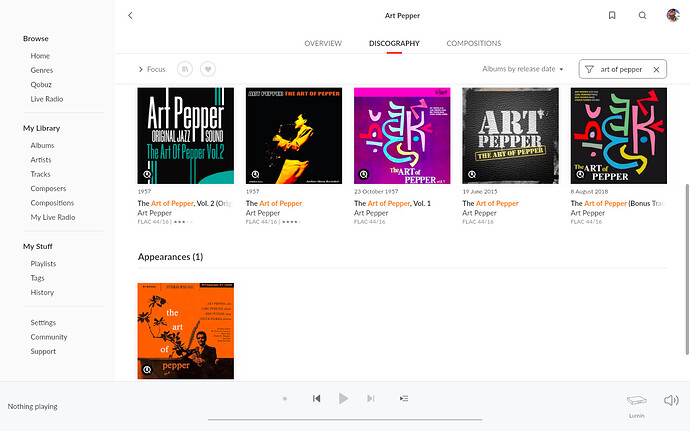 Second screenshot is of Qobuz…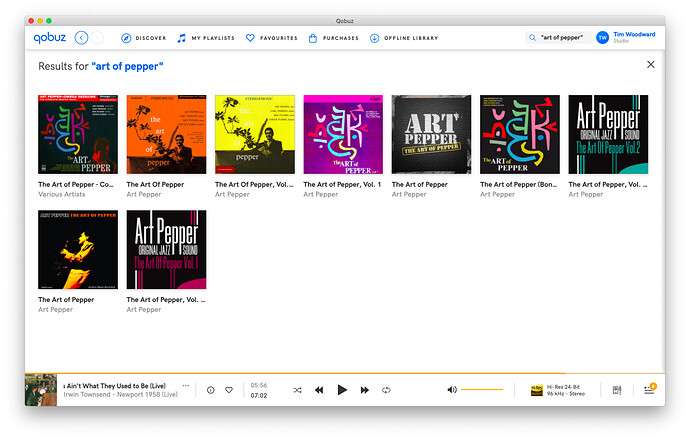 So why are there albums on Qobuz not shown in Roon, which is getting its information from Qobuz?
Particularly the very first album in Qobuz, this album can only be found in Roon by using the generic search facilities, it does not exist anywhere else, not in the Art Pepper discography, nor the Art Pepper Quintet discography, nowhere… but there it is in generic search third album in.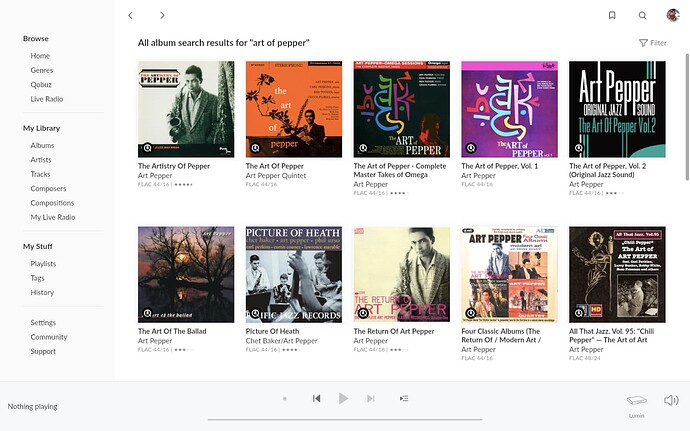 Incidentally looking at the Qobuz screenshot, the third album in "The Art Of Pepper, Vol. 1 & 2 (Two Original Albums – 1957)" doesn't exist anywhere in Roon as far as I can see.
I'm not really looking for a solution to this as there isn't one. I'm just really posting this as I'm so frustrated that the best music library system in the world just can't seem to get it's integration with streaming services working, not well enough certainly to deliver anywhere near a realistic search result or not even when cataloguing an artists albums into their discography.
I know we keep getting fancy new features like Art Director, but surely, isn't the basic operation of the system more important? If I can't go to an an artist's discography and trust I will see ALL their work pulled from the streaming service I am connected to, then I might as well just use that streaming service surely… I love Roon, I couldn't live without it, but so often these days as my interests in music are expanding I can't seem to live with it!
It would be great to hear from Roon as to what exactly is the problem with streaming integration these days and how perhaps they could work to solve it? Because this integration is super important to the survival of the software, as every day new features are added to Qobuz that make it more and more like Roon - ok it's still only about 30% there, but one day…?