Okay! It works now. Thanks very much!
@Martin_van_den_Nouwe, could you, please, check you are running Roon in the compatibility mode?
Thanks!
–
Ivan
When can we expect fix for this? I won't be taking any logs nor set any compatibility modes. I want to be able to listen to music like I can do with all others FREE audio players I have.
You are not being asked "to set any compatibility modes" - we are being asked to check whether we have had a compatibility mode set for a previous version of Windows, and if so, to clear it and see if that fixes this issue (which it seems to do for some of us).
I was using Roon on a Dell Workstation running Windows 11 with all the latest updates. After upgrading to the latest version per Roon's suggestion Roon no longer works and reports the above error - "This device is not compatible with Roon 2.0. For more information, please visit https://go.roonlabs.com/Roon/Help_Roon2 . This is beyond unacceptable. I have not seen a compatibility issue on any software for YEARS now. Come on. Get it fixed!
UPDATE - Compatibility "fix" result was that Roon will not load at all now. The error does not appear, but Roon does not load and so cannot be used.
UPDATE 2 - I finally found the correct Roon.exe file and unchecked the compatibility settings and now Roon loads properly. So this appears to work. Why don't they tell you this when you upgrade? lol
If you have applied compatibility settings in the past, then these won't work with the latest build of Roon, and you need to clear them. For example: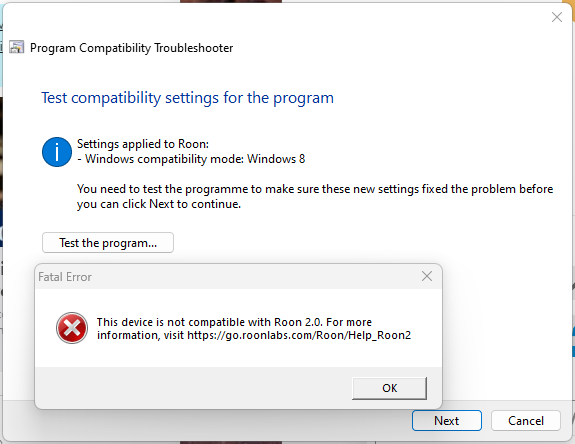 Thanks for all this.
Trying not to appear too dense but could someone take me through the procedure?
Many thanks
Look at the Properties of Roon.exe and check the Compatibility tab.
The Roon.exe program will usually be found in C:\Users\<username>\AppData\Local\Roon\Application. For example: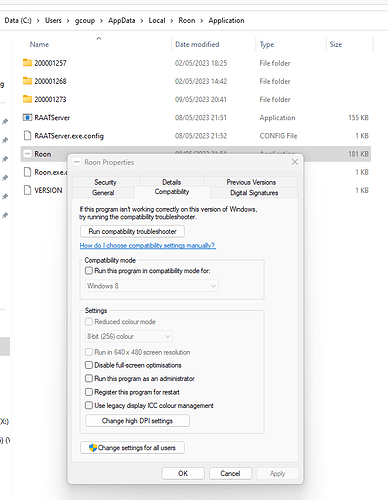 Or, if you have a Roon ICON on your desktop, right click on that, then left click on Properties and you'll see the Compatibility tab. Click that and turn-off.
EDIT: Remove the checkmark.
Well, that screenshot shows that you have Compatibility Mode switched ON for Windows 8 - you need to turn it OFF. You should not have any Compatibility Mode engaged.
The compatibility mode was set to "Windows 8", I unchecked it and now it's working again.
Thank you for your support.
I'm wondering how these compatibility modes ever got enabled in the first place.
A few months ago, someone here posted that setting to compatibility mode would solve the Windows Roon crashes. It didn't.
Thanks all for your help. I've unticked the box but still won't open. What could I be doing wrong?
Did you then click the Apply button followed by the OK button?
thank you for your kind answer.