Thanks! Lavorgna's 10 reasons are spot on and cover most of the reasons why Roon users love Roon.
Michael Lavorgna is always thoughtful with his writing and his reasoning above is pretty solid.
While most of what he reviews is way outside of my price range I always enjoy reading and listening to what he has to say.
I must admit I've mostly given up on reading reviews as like you, i find the majority of the reviews to be on silly money kit.
I look at the list of articles on :-https://www.dailyaudiophile.com/ and see if any interest me.
Ooh I have never seen this page before Ged, now what have you done

I seem to get most of my reviews and article's surfaced through Google news, but I think this might get a bookmark thanks.
For the moment I have all the equipment I need and a bit more (too many lockdown purchases), but it's funny how reading some of the gushing reviews or watching the YouTube videos makes you think about additional purchases anyway.
Have to agree with all those 10, it's why I am still here. It's not perfect but it's still better than any of the alternatives.
It's always interesting that those of us that spend a lot of time in these forums must have a warped appreciation of Roon's quality and value.
We all use it heavily and lament it's flaw's but at the same time we are all still here. As much time as I spend with PlexAmp and Tidal outside of the house, I am straight back to Roon almost as soon as I am through the front door.
I remember someone commented a few years ago that if you looked at the combined thread's in the support area you might not believe that Roon actually worked at all.
My main reason for getting it was that I was sick of looking at 'pictureless' albums in my library. The rest is a bonus.
I'm too bone idle for constant library grooming before that's suggested…
True, but the forum is only a very small slice of Roons over all user base. Every software has its issues. Some are willing to overlook then when it costs them nothing or is a moderate cost. People look at Roons price and expect to receive a high level of service and something that works as described. That is something they do need to work on as here is where they really fall down of late.
Surely you just pop the vinyl cover on top of the record player and you have the best screen in the world with an analogue sound and analogue picture…
Perfect

100% true and hopefully it is a work in progress
I think that's why I have such an annoyance of digital not having an album cover. How hard can it be?
This I sympathise. I recently realised the last 3 batches of rips I did did not get artwork or properly tag album artists. In Roon all looked great. I was using Plex when not at home and loads of albums whee a complete mess, all compilations where showing as each artist. It was a mess. Puts it in perspective , same in the UPnP server I use as a backup as well.
Also had to keep on top of it all the time for LMS it was a pain in the neck. Small things that you now take for granted with Roon as so used to it doing its thing without thinking about it.
Shamefully I use iTunes and for the 'biggest and best?' Streaming giant it can't even find simple album covers. Annoys the tits off me.
It's virtual man…
I have the 10"! Google home Max as my album covers and it is really nice and very clear . No sleeve notes etc but it's still nicely visual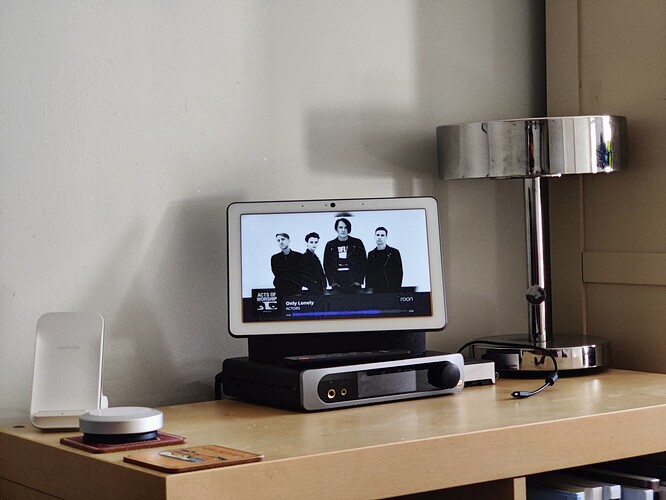 That looks cool. Mine show up on my NAD player. Have to squint a bit across the room though!
Now this… Yes
I don't upload mine now until I have seemingly checked everything and still I find loads of issues in Plex

Gary



(Shameful behavior dbPoweramp or similar)
I have a screen on my Atom I have it turned off all the time as it's just annoying when watching tv as it doesn't switch off for an hour or so if not in use. You either have it always on or off straight after it starts playing. I can bring it back with a click.
Looks nice that Matrix setup.