Core Machine (Operating system/System info/Roon build number)
Media Server: Lian Li PC-Q25B; Corsair SF450 Gold; 2 x 8GB Kingston DDR2400 ECC RAM; Asus P10S-I; i3-7100 3MB 3.9 GHz; 64 GB Transcend MTS400 M.2 SSD; NH-9Li; NH-S12A PWM; NH-A14 PWM; 2 x 8TB WD Red (Mirrored using Microsoft Storage Space) + 3 x 10 TB WD Red; iKVM IPMI-Remote Management; Windows 10 Pro; EaseUS Backup; WD Utilities;
Latest Roon Version (downloaded yesterday)
Audio Files (not only) are on the 8TB disk. On the 10TB disks are Movies & TV Shows
Network Details (Including networking gear model/manufacturer and if on WiFi/Ethernet)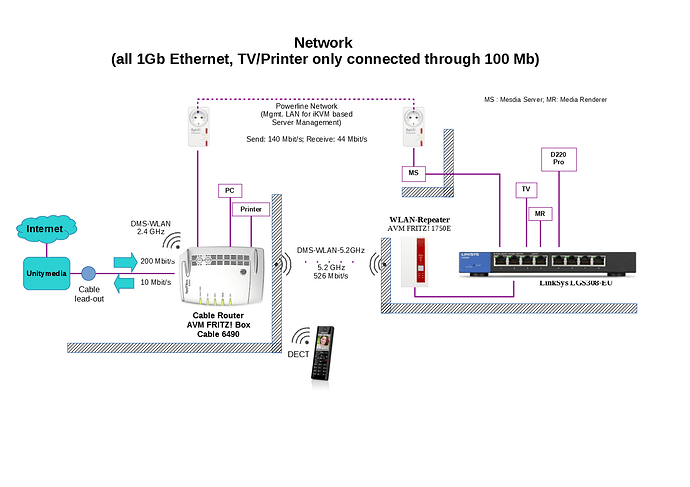 TEXT GOES HERE
Audio Devices (Specify what device you're using and its connection type - USB/HDMI/etc.)
Devialet D220 Pro CI - connected through AQ Ethernet cable to switch
Description Of Issue
I wanted to give the Devialet Trial offering of roon a chance using roon RAAT.
If e.g. playing Diana Krall "From this Momement On" in 16bit/44,1kHz or 24 bit/96kHz or via Qobuz there is 5-10 sec no sound during playback. After this time sound is back. Playback proceeds during the phase where there is no sound. Protocol used is Roon RAAT.
Playing Qobuz from my Media Renderer connected to USB to my Devialet works without problems. I have also JRiver. The same is valid with JRMC running as a client to the server connected through USB to my Devailet. I never got UPNP playback working from my media server using JRMC to the Devialet (stuttering, buffering issues), also using Devialet AIR with MC is not working flawless.
Could it be that the CI Module is damaged - I have than go back to Devialet or is it more a network issue?