Finally got around to trying out an A|B listening test between the following:
Sonore microRendu (sw version 2.2) with AudioQuest Dragonfly version 1.2
Raspberry Pi 3 with IQaudIO Pi-DAC+ (sw IQ Roon RC4)
Both were connected to my QUAD 44 preamp via the Tape Record inputs (set to 0dBm - 775mV sensitivity). Playback was via my QUAD 405 amp and QUAD ESL-57 electrostatic speakers.
I grouped both into one zone: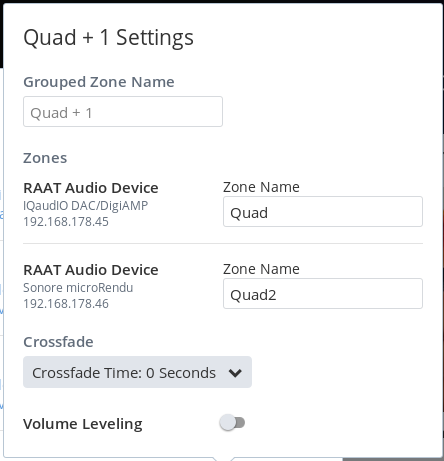 I could switch instantly between one or the other via the Tape 1 and 2 replay buttons on the QUAD 44:
All tone controls on the QUAD were cancelled, and source material was a selection of FLAC 96kHz 24bit and 44.1kHz 16bit stereo audio files.
And the result? Well, try as I might, I couldn't hear any difference in SQ between the two… Now, two things. First, this wasn't a blind test - my partner wasn't at home to push the buttons for me, and second, my ears are 67 years old, and doubtless well past their prime.
So I wouldn't want you to think that there may not be any differences in SQ. It's just that, with this setup, I certainly can't hear them…