First of all, thank you Roon team for 1.8. Generally I like the new release and visuals, it's a step in a right direction. Vertical scrolling and iPad portrait mode are superb.
But some things were better before. I wanted to make a new topic about this one subject I haven't seen mentioned that often elsewhere. In 1.7 we had an option to show track numbers on iPhone app. Now this setting is only visible for iPad and desktop apps. Why? I find track numbers very useful when viewing an album.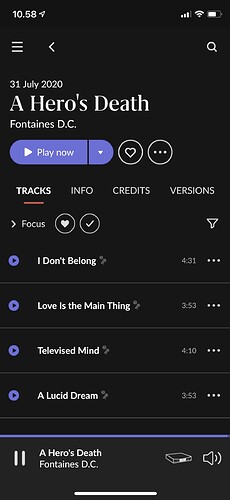 There's plenty of space for track numbers between play button and track title. Please let us choose by ourselves, thanks.
Other things I hope will get fixed back as they were are:
One of the best functions of Roon, Discover, being buried under Home menu and plenty of scroll (temporary fix with bookmarks works for now though)
Waveform bar being shrunk to being almost useless now
Disappeared star ratings in discography view (these are really helpful when browsing new artists discography and trying to choose where to start from)
Please let users choose the size of album art on album view so we can fit more albums per page
But as said earlier, thank you. I'm sure 1.8 will be polished further in future updates. Roon still works perfectly fine and lets me enjoy my music library and discover new gems.