Changed some genres tagging today and even after hours I don't get to see it in my library genres ?
Need to confirm but have a friend who might be having similar issues … extensive personal tagging of genre in files before moving to library storage locations and not being able to use effectively in room with similar settings.
Yes, did it again + save and did not solved the problem. Maybe an unknown genre for Roon !!
Just did a test, changed tag 'Indie Rock' to 'Test' and this was almost immediately visible. It looks like the genre 'Indie Rock' is not recognizes on Roon. Same problem with 'Indie Pop' and 'Indie Folk' !!
I'm going to do another test. I see in my tags that I have both 'Indie Rock' and 'Indie Rock', maybe there is the problem, 'Indie Rock' with both small and capital letters present in the library
Test done, not o.k.
It appears that the tags 'Indie Rock', 'Indie Pop' and 'Indie Folk' are not accepted and strangely enough the tag 'Indie Alternative' is recognized
You never believe this. 'Indie Rock' is not shown. 'Indie Rocky' is.
It seems that the number of characters after the space (after 'Indie') must be greater than four (4)
@ Roon programmers, somewhere a shortcoming in the database ??
Pff, I give it up, 'Indie Electronic' does not work either
I've moved this into the Metadata issues forum and flagged @support for you to see if they can cast some light on this…
My friend is having issues with "Dub" as the genre…maybe he can try "Rub A Dub Dub 3 Men in a Tub" Im being funny of course… but I am playing with his system remotely and seeing what I can discover.
thx, hope they have a look at it
Hey @fernand_lambert,
Would you mind sharing one of the albums that's experiencing this behavior with us?
Ideally, you can zip up the entire folder and send me private message containing a shared dropbox link. If you don't have Dropbox or need another way to send the media, just let me know.
Can you also let us know what tagging software you are using for this?
Thanks,
Dylan
Dylan, It does not matter at which album is tagged, the 3 examples ("Indie Pop", "Indie Rock" and "Indie Folk") are not shown or accepted at the library genres.
I suggest that someone from this group do the test here, choose a random album from your collection and change the genre tag to one of those examples and see if the genre occurs on Roon.
I think what is going on here is that these genres ("Indie Pop", "Indie Rock" and "Indie Folk") are in Roon's genre hierarchy, but they are sub-genres, and thus don't display at the top level.
There also seems to be a bug in the Genre Browser in that it doesn't always show the complete list of top-level genres… I'll show that later in this post.
Personally, I don't use Roon's genres, but my own genres derived from file tags. Nonetheless, Roon has its own genre hierarchy baked in.
Here, for example, I've taken a random album, and assigned "Indie Rock" as a genre:
If I then go to the Album Browser, and Focus by Genre, then the new genre shows up, and is shown as being assigned to one album:
However, if I go to the Genre Browser, and show the top level genres sorted by name, I don't get a complete listing (it stops at Folk/Rock), and some sub-genres are being shown at the top level (e.g. Contemporary Pop):
I need to have it sorted by number of albums before I see the Pop/Rock top level genre appear:
And there, in the sub-genres is my Indie Rock album…
So, to summarise, the genres are there, but there seems to be a bug in the way that the Genre Browser displays them. This could be because I have set Roon to use only genres from my file tags. It is nevertheless a bit annoying…
Impressive test. I do not use the Roon genres either.
It remains strange that something like "Indie Rock" is not shown and "Indie / Rock" is.
As a joke I tagged an artist's albums with genre "anoying bug in Roon" which is not a problem

Hey @fernand_lambert,
If you go to the Pop/Rock genre and look at the subgenres available, do you see Indie Rock? Indie Rock is, by default, a sub-genre of Pop/Rock.
This hierarchy can be changed so that Indie Rock, or whichever genres you'd like, appear in the top-level genre list. See steps below:
Navigate to the Indie Rock subgenre
Right-click/long press to select and choose edit
Choose Edit for the Parent Genre option
Select Choose Genre
Select Make Top-Level Genre
Moving forward this genre will now be a top-level genre and should be visible for you from the main Genres browser page.
-Dylan
Dylan, a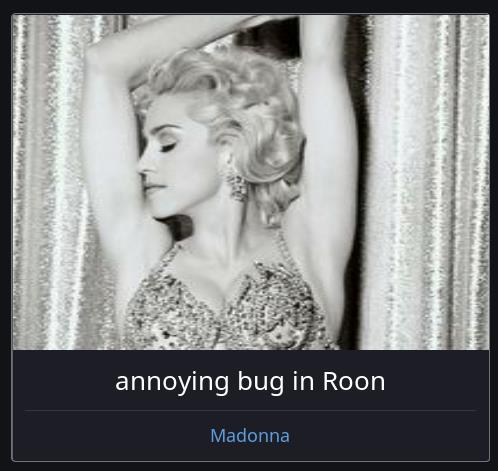 ll well and good but why is the fake genre that I added visible, does not make sense
It makes perfect sense. You've added a unique, new, self-defined genre, and such a genre defaults to the top level of the Genre hierarchy - where it will be seen. Genres in Roon exist in a tree-like structure, and only the top-level genres are displayed by default. The others are reached by traversing the sub-genres.
Can indeed, but suppose, I have a ripping service here in Belgium and my customer would prefer to see 'Indie Rock' instead of 'Indie / Rock', coincidentally wants him to be a Roon user then I have a problem