Hi @support
Core Machine (Operating system/System info/Roon build number)
Nucleus+ Version 1.7 (build 710)
Description Of Issue
I have three copies of the track "Alabama Song" in my library (on The Doors album by The Doors, on Scary Monsters by David Bowie and on Stage Live by David Bowie). All three copies have the text "Apr 1927 - Apr 1929" in a smaller font after the text name. This text is not present in the track metadata on disk and is not editable. It is also present on all the Tidal and Qobuz tracks of this song by Bowie and The Doors. It is also happening on a different track with the same name on the Qobuz album A Clear Midnight by Julia Hulsmann. Interestingly on the latter track this is also happening (with different dates) on other tracks in the album. Please see that attached image for examples.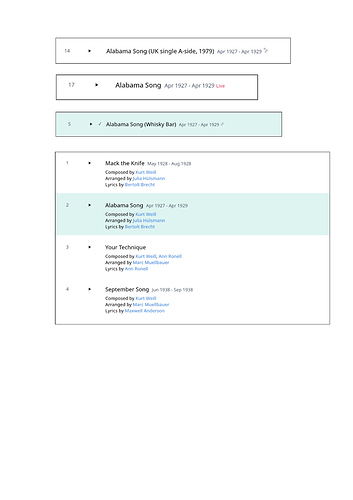 What is this, where does it come from and can I get rid of it?
Many thanks.