Hello,
first of all sorry for my bad English, I hope being clear enough to describe my problem


I'm in the process of evaluating Roon and let me say that I think it's a wonderful piece of software.
My issues started when I tried to play some HD files, and I was very often faced with the infamous "Roon - An audio file is loading slowly" message.
My core is an (admittedly old) iMac running OS X El Capitan, the files are served by a homemade NAS built around a RasperryPi running OpenMediaVault. The files resides on a couple of 2TB disks running in RAID1.
The Roon version is 1.3 build 262.
The output device is another RPi equipped with an Audiophonics Sabre 9028 I2S DAC running DietPi.
The NAS, the iMac and the output RPI are all connected to the switch via cat.6 cables.
The eth0 port of the NAS is running with MTU=1500, no jumbo frames involved.
Trying to figure out the root cause of the problem, I switched to another player (MoodeAudio) and I was able to reproduce the files without any glitch.
So I monitored the eth0 interface of the NAS trying to compare the bandwidth requested by MoodeAudio with the one requested by Roon. In the graph below there are my findings: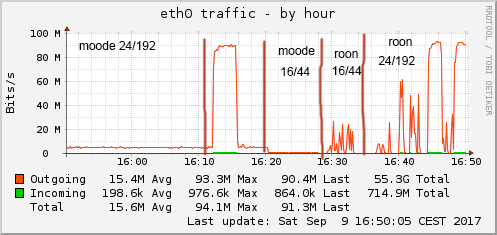 (the huge peak about 16:10 was me copying a file from the NAS to a local disk, and in the meantime the playback continued without interruptions).
So, it seems that Roon requires a very large amount of bandwidth in comparison to MoodeAudio, and when the bandwith eventually got saturated Roon is forced to give up.
The user experience Roon provides is orders of magnitude better than every other player I've tried, but I'm afraid that if I can't figure a way to solve this issue I would be sadly forced to revert to MoodeAudio as my standard player.
Every bit of help would be greatly appreciated.
Kind regards,
Gaetano