Roon Core Machine
ROCK, NUC8i7BEH, Crucial 8GB Single DDR4 2400 MT/S, Transcend 128GB Nvme PCIe Gen3 X4 MTE110S M.2 SSD Solid State Drive
Networking Gear & Setup Details
Ethernet to NUC: Google WiFi, TP-Link 8 Port Gigabit Switch, Synology DS920+
Connected Audio Devices
MacBook Pro, iPhone 12, Chord Mojo2/Poly, Chromecast Audio
Number of Tracks in Library
43,000
Description of Issue
I love the concept of Roon ARC and have patiently waited for it (so glad it is here).
However, I few quirks at the start-
I downloaded the app, logged in, and received the following: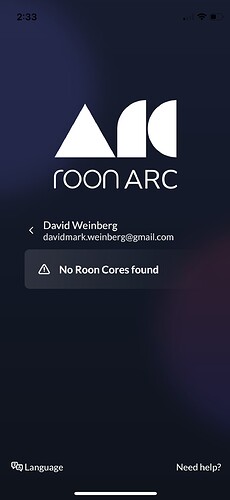 My core is up an running and is located just a few feet from where my iPhone is located: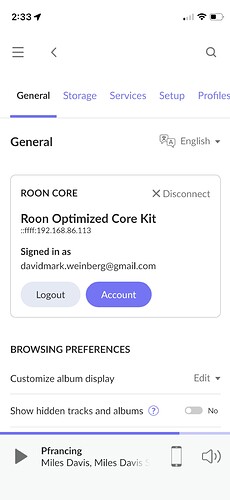 When I tap the left bracket next to my name, the screen doesn't change. No options to proceed except to abort the app.
Any thoughts?
David