I'm not really sure this qualifies as a genuine "Artist equivalence" issue. But anyway, here goes:
I have a large number of tracks with the RIAS Kammerchor listed in the Artist tag. Normally you'd expect to see this translated as a Primary Artist in Roon. But not so.
In (almost) all instances the RIAS Kammerchor is presented as Primary Artist Maria Stader. The only reason for this I can think of, however far-fetched, is that the last three letters of hier first name and the first letter of her last name spell riaS… But that's ridiculous, isn't it?
Here's Maria's artist page, showing a selection of albums featuring the RIAS Kammerchor:

And here's a part of the album page of the complete Mendelssohn symphonies under the baton of Yannick Nézet-Séguin: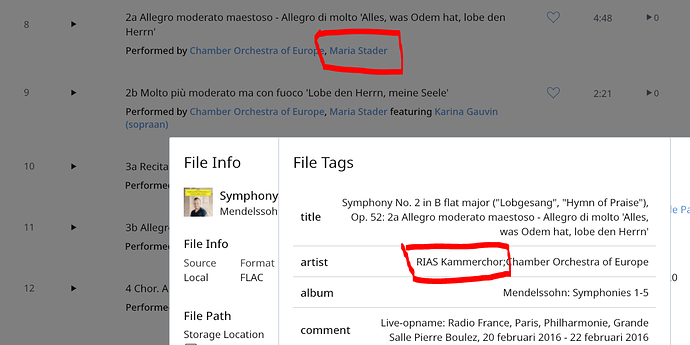 When I change the RIAS Kammerchor to TIAS Kammerchor in the Artist tag, I get this: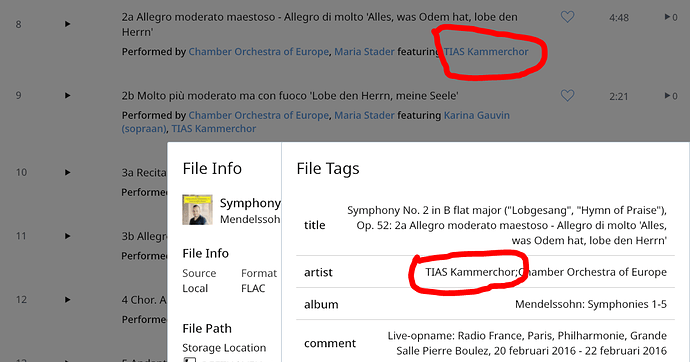 Maria Stader is now added as a Performer because the RIAS Kammerchor is credited by Roon as the Choir/Chorus. (This is an Identified Album!)
And the TIAS Kammerchor is now a featuring artist.
I suppose that here is clearly a case of an under-the-hood link between the RIAS Kammerchor and Maria Stader.
Please fix this, because it's rather annoying to have a deceased concert soprano sing all choir parts in recordings that have for the better part been made after her death. And there are about fifty of those in my library!