Roon Core Machine
Roon Core 2.0 on Mac mini Late 2014 Intel i5 8GB
Networking Gear & Setup Details
Most likely irrelevant for this bug, but here it is anyway:
Eero 6+. Core wired to main unit
iPad on WiFi uses Safari browser as a Roon Display.
Connected Audio Devices
Not, relevant. This bug is not related to audio playback or endpoints.
Number of Tracks in Library
Not relevant, but approximately 5,000 tracks.
Description of Issue
Roon Display doesn't show the album art for certain albums. It only shows a blurred background of the artwork.
I think the Roon Display is a marvelous feature, but this bug makes it very frustrating. I cannot reliably predict which albums work and which ones don't. It certainly happens with albums with lyrics, but I guess that's by design because Roon wants to display lyrics on a blurry background. I solved that problem by disabling lyrics for the Roon Display.
But it's also happening with albums without lyrics such as classical symphonies! Imagine ordering a vinyl online and it shows up at your door with blurry art on the cover!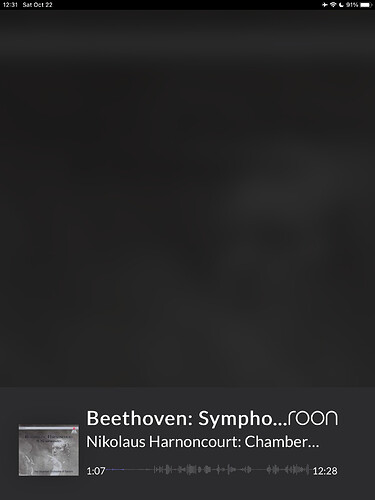 Reloading the browser page doesn't fix the problem. Please fix!