Core Machine (Operating system/System info/Roon build number)
Nucleus, Roon 1.8 Build 783
Network Details (Including networking gear model/manufacturer and if on WiFi/Ethernet)
Eero Pro mesh network
Audio Devices (Specify what device you're using and its connection type - USB/HDMI/etc.)
HDMI connection to receiver
Description Of Issue
I just replaced a 6i5 nuc running ROCK with a Nucleus, and the overall user experience is noticeably slower, particularly using my iPad Air 2. Artwork frequently takes a few seconds to load. Sometimes I get stuck on a screen like the one below for 10 or 15 seconds.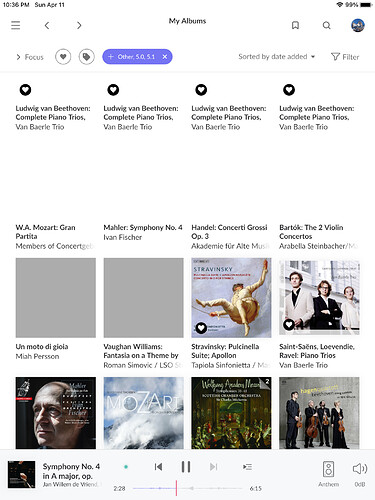 The experience is snappier using my laptop as a remote. Probably a networking issue is responsible, but the only thing that has changed is the addition of the Nucleus.
I have tried clearing the image cache on the iPad and removing and re-installing Roon with no improvement. Perhaps there is an easy fix I'm overlooking. I'd be grateful for any suggestions.
I have also encountered a probably unrelated problem with occasional loud pops when starting playback. I think this is an HDMI issue, but it was never more than a moderate click with my previous server.