Roon Core Machine
See screenshot: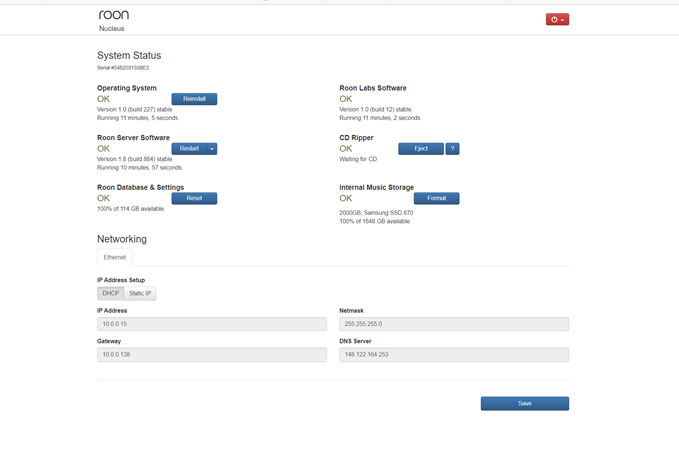 Networking Gear & Setup Details
Not much to describe here. Using a WiFi ruter from our phone company with two Wifi repeaters. The Nucleus is connected to LAN port on one of the repeaters. There are no problems with anything that would indicate a problem with internet/WiFi connection.
Connected Audio Devices
In addition to the Nucleus we have B&W Formation speakers in two zones: a Formation Duo pair in the zone 2nd floor and a Formation bar, bass and two flex speakers in the zone "3rd floor home cinema". We also have a Formation Audio set up in its own zone. We have a Samsung TV that has its own "connections" box. We also have a Chromecast Ultra connected to the TV and a Chrome Audio to the Formation Audio.
Number of Tracks in Library
So far have only ripped in 4 CDs and connected Qobuz.
Description of Issue
When I try to set up my Formation speakers as audio zones in Roon, I cannot get Roon to recognize both/all of my B&W Roon ready zones at the same time. You can see from the screen shot that Roon recognizes the 3rd floor home cinema zone (3. etg. hjemmekino) as Roon ready and also as "Other network devices. While the Duo speakers on the 2nd floor (2. etg. B&W…) only show up at "Other network devices", but they are also Roon Ready.
I have restarted and done factory reset with the B&W appp, and then reconnected the B&W speakers/zones, several times. This time I connected the 3rd floor first. The 3rd foor shows up, but I can't play anything from Roon. Previously, the zones were reversed…the 2nd floor showing as both Roon Ready and other while the 3rd floor was only other. I could select the 3rd floor, as an "other network device" and it would play about 30-60 seconds and then stops.