What ROCK OS version should be running under 1159?
I have an issue but suspect I'm running the wrong OS.
Which one are you running?
Current is 254 production (recent update from 223 edit: actually 227 was the last production before 254):
(Even if you were in earlyaccess in the past. The earlyaccess 253 was also intended to update to production 254 automatically)
Hmm I'm not getting any prompts. Probably need to explicitly opt in to early access as my core is on Alpha.
For another time

Wont make any difference to what build of Roon you use, RoonOS and Roon are independant of each other. The latest ROCK just has some long awaited bug fixes and UEFI support.
Thanks for that - I was using the instructions on the main help page, which don't work.
I thought I'd better check that I'm up to date before reporting bugs

Plenty of them to go round.
Yeah I guess in this case you were orphaned and you have to do the manual version. There are instructions in the earlyaccess threads. For users of 253 earlyaccess, Roonlabs wrote that they would update everyone automatically to 254 production, so that people wouldn't get stranded on an abandoned branch (as RoonOS doesn't get the regular updates like Roon), but this hasn't worked for everyone so far, either. I guess something similar happened to you.
Well that was interesting, "database error but don't worry roon support are here".
Quick hard reboot and is back up and running.


Will wait until tomorrow to see if the bug is still there.
Thanks one and all.
Yeah some strange bugs and one off weird things have happened with the latest OS Build.
I finally updated my MOCK build to B253 a few days ago (because our living arrangements are still in a severe state of flux my MOCK that is built up in the HDPlex case was still on B1072 from when I last unpacked it to move it from alpha to early access).
Usually I use the MOCK as my main sever but because it is in storage until we move back into our home I am using the little NUC10 as my main core, so the MOCK gets unpacked occasionally so that it doesn't get orphaned later on.
The ASUS H270I motherboard has dual Ethernet ports and when I installed B253 Roon could not connect to the internet and it wasn't showing up on my network at all. I thought maybe that @danny might have dropped support for for the Ethernet drivers and as it was a MOCK I didn't report it but then I thought it would be strange to drop support for Intel as that is what NUC's are.
I only ever used the Intel Ethernet port on the H270I, the other port is a Realtek and was always turned off on the Web UI.
So I turned Ethernet 2 back on and voila it was working, somehow in B253 the Ethernet ports got reversed, port 1 is now port 2 and vice versa.
I was very happy about this as I thought my MOCK had finally run its last Roon build!!!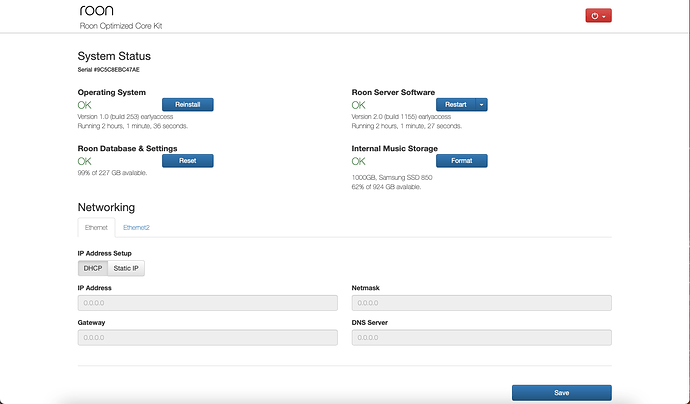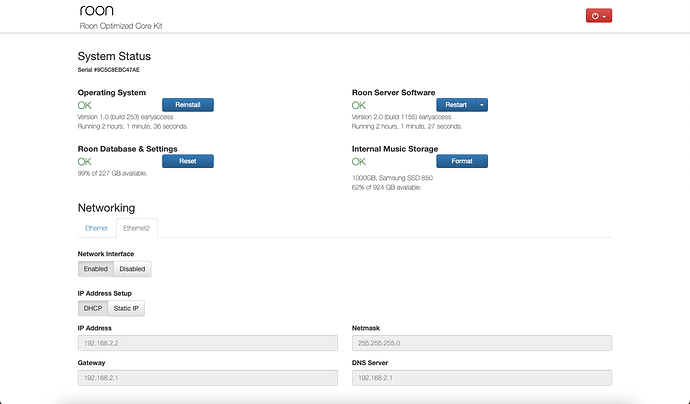 It is better to be using 254 production as mentioned above.