Roon Core Machine
ROCK on Intel NUC
Networking Gear & Setup Details
1Gbps wired
Number of Tracks in Library
25K tracks
Description of Issue
Since a few weeks, my Backups are failing. I'm doing my backups on a USB drive connected to my Intel NUC running ROCK. Roon gives a message that "the backup directory is not available". But obviously, it is available, since I can select it in the backup configuration. If I start a new backup with a new or empty directory, the backup will work the first time. But as from the next day, the error will appear.
I tried : emptying the directory, deleting the directory and creating a new one … same behavior: the backup works the first time, and fails as from the second time.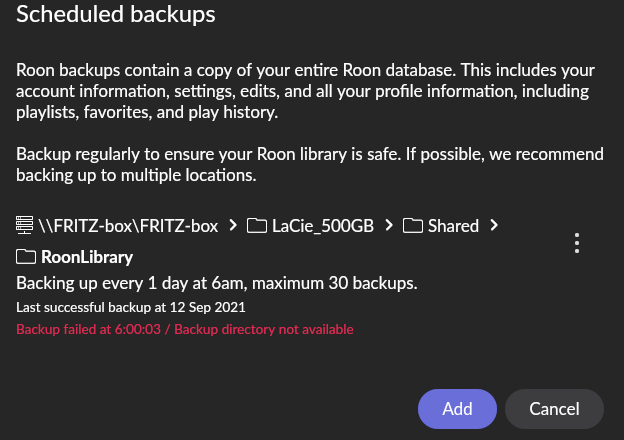 I can see that Roon actually accessed the folder at the time it says it was unavailable and started the backup, but all the subfolders are not updated.

And yes, there's enough free space: it's a 500GB drive , with 450GB remaining.
Thanks for your support.