Core Machine (Operating system/System info/Roon build number)
QNAP HS-251+ Version 4.4.2. This has a Quad core 2.0 GHz processor and 2GB DDR3L RAM.
Network Details (Including networking gear model/manufacturer and if on WiFi/Ethernet)
Sagemcom Fast 5566 Home Hub 3000. I'm direct connected via Ethernet.
Audio Devices (Specify what device you're using and its connection type - USB/HDMI/etc.)
LUMIN D2 streamer connected to my NAS via ethernet
Description Of Issue
I have my core on a QNAP HS-251+. This has a Quad core 2.0 GHz processor and 2GB DDR3L RAM. I have been using this as my core since purchasing Roon a couple of years ago without issue. I use a LUMIN D2 streamer running through a Simaudio i7 amp, etc. I use an iPad Pro as a controller. Tonight, for some reason, it wouldn't automatically connect. Instead, it brought up a window for me to choose my Roon core, which I pressed the connect button corresponding to my core. In doing so, it brings up a roon sign in page. When I try signing in, it brings up an authorization page showing my NAS and a button to unauthorized it. The only thing I can think of that has changed since the last time I used my system was I had to unregistered my NAS and reregister it so I'm not sure if that is creating the issue I'm currently having or not. Can you please help? A couple of pics follow: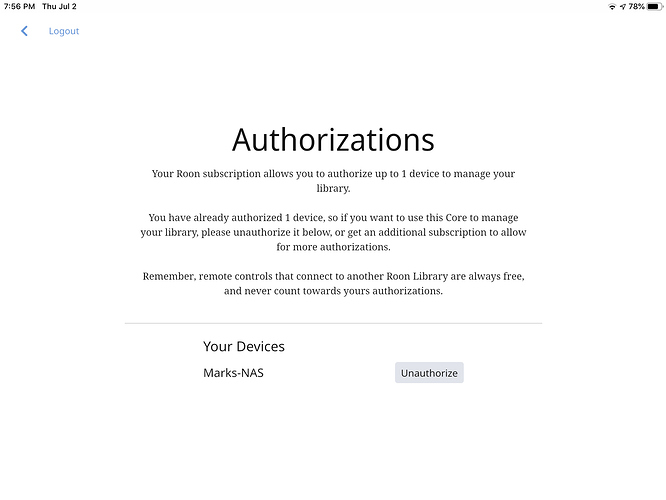 !