Core Machine (Operating system/System info/Roon build number)
Roon Optimized Core Kit - Intel NUC running Rock - Version 1.7 (build 511) stable, OS Version 1.0 (build 183) stable
Network Details (Including networking gear model/manufacturer and if on WiFi/Ethernet)
Apple Airport Extreme Router - Latest Gen 802.11 AC - Rock is hardwired via 1GbE to network, Synology DS418play, also hardwired via Linksys switch 1GbE to network
Audio Devices (Specify what device you're using and its connection type - USB/HDMI/etc.)
Schiit Jotunheim - USB to Lenovo T580 Laptop running Windows 10
Description Of Issue
I am trying to remap my Synology DS418play NAS to Roon after switching my internet service. After the IP address switched on my DS418Play Roon no longer could connect.
I was able to successfully map the Synology network drive to my Lenovo Laptop. Here's a screenshot my local directory I used to map to and how I am trying to type it into the network share in Roon: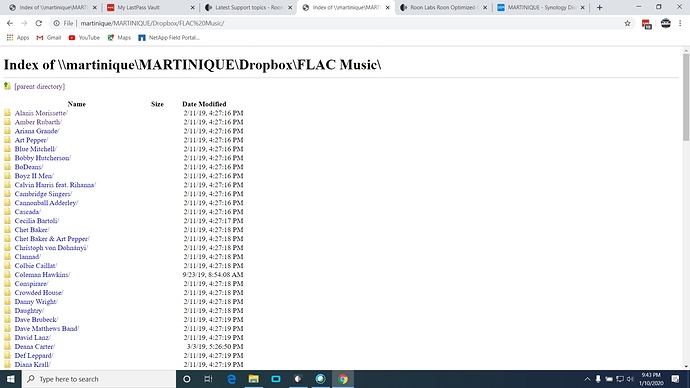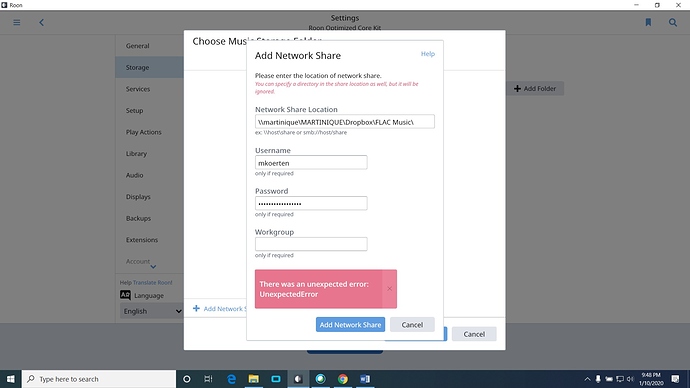 Since its a PC I am using the Windows explorer file format (ie. \Martinique) as my way of connecting it to Roon.
Here's what my PC looks like with the mapped drive:

I used to have it mapped but I remember having to type it the correct way for Roon to recognize the network drive. If I am able to map the drive to my Windows 10 PC I would think Roon should be able to see it as well.
Any ideas/suggestions on how to get this mapped would be much appreciated. Thanks!!