Hi @noris
Please can you let me know the latest on whether ROCK access to Local NAS shares via Hostname has been restored? I have lost access to my local shares configured via hostname and I am am attempting to restore backup after reinstating the same shares by using the the IP address directly.
Two related questions-
Has anything changed in the latest ROCK updates that requires this reconfig, and means that the hostname connections are no longer working?
Is ROCK accessing the file shares using a different protocol when the connections are configured by IP?
There appears to be an SMB issue since I last updated ROCK, as I have the issue noted in this thread and I also cannot access the Roon Core file system via Hostname nor IP - I was trying to access in order to view Log files: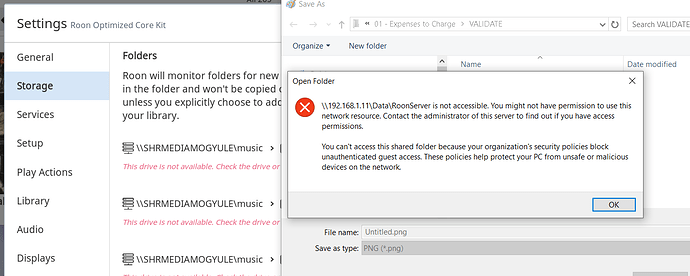 My ROCK configuration is:
Roon Optimized Core Kit
Serial #94C69114138A
Operating System Version 1.0 (build 175) stable
Roon Server Software Version 1.6 (build 416) stable
My local share is hosted on a Synology DS412+
I have raised a separate support ticket with Synology relating to the SMB issue.
However my issue with connecting to the ROCK file system from my Windows laptop (last known working) makes me think that the issue is with ROCK rather than with Synology.
Please could you help me with this?
Thanks
Jack