Roon Core Machine
Ubuntu 20.03 i5 8gb Ram SSD
Networking Gear & Setup Details
TP Link Deco Mesh Wifi
Core and bridge are both hard wired Cat 5 Ethernet from the mesh routers
Connected Audio Devices
USB Audioquest Dragonfly Cobalt
Number of Tracks in Library
<100
Description of Issue
Unable to view the bridge in my setup.
Fresh install of windows 10 home. Very few programs installed, just Roon Bridge.
Roon Remote app on IOS can see the bridge in the About tab, but I can not view the bridge in the Audio tab.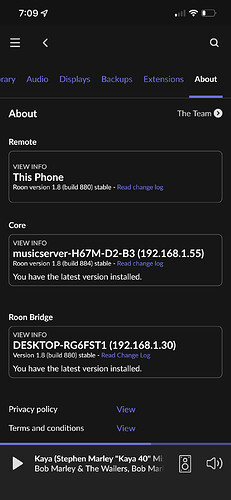 Currently firewall settings are all turned off on the Windows 10 bridge and still unable to access.
Haven't touched the Ubuntu firewall as of now.
I have also tried to setup 2 different i5 PCs with a fresh install of Ubuntu 20.04 and Roon Bridge and still was unable to see these bridges in the remote ios app.
However I have a Macbook Air macOS 11.5.2 and everything works correctly. The Macbook is viewable in the iOS app, it can see my DAC and I can play music to my stereo.
Tim