Core Machine
WIN10
Roon Version 1.7 (build 610) stable (64bit)
XPC DS 77U3
4 GB RAM
WD GREEN 120GB SSD for the OS
2TB HDD for data
Network Details
Bridge with Ethernet to FiberHome AN55-02-FG
Core with Ethernet to FiberHome AN55-02-FG
Remotes with WiFi to FiberHome AN55-02-FG
Audio Devices (Specify what device you're using and its connection type - USB/HDMI/etc.)
Raspberry Pi 4B 2GB
HiFiBerry Digi+ Pro
Raspberry Pi 4 power supply 5.1V/3A
Coax connection to Sabaj A4
Samsung Galaxy S20 (wifi)
iPhone 6s (wifi)
Description Of Issue
Hi,
I have used the above configuration more or less without issues and it worked fine with both HiFiBerry OS or Roopieee OS. Before I went on holiday I have unplugged the system however it did not go back to normal after I wanted to use again.
I believe I have tried many things with no success unfortunately: different LAN cables, different LAN ports to router, different SD cards, reformatted the SD cards several times, tried both OS (HiFiBerry and Roopieee), restarted core, reinstalled core - no permanent success at all.
There were brief instances when my Pi/DAC was recognized as manageable Roon Audio zone but that lasted like 10 seconds, or I saw it as an AirPlay option, but it quickly got dropped and was not able to make it work at all.
What is weird is that my iPhone sees the Roon Bridge within the "About" section but does not recognize it as an Audio Zone.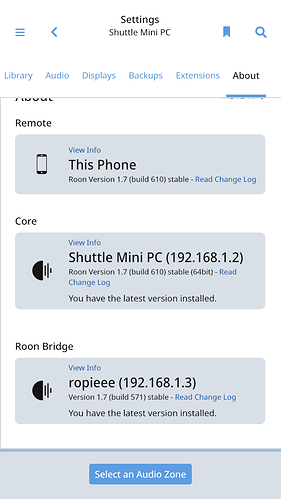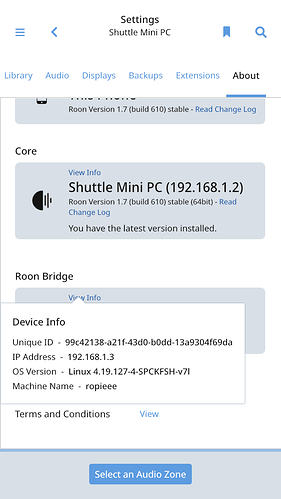 I am clueless now. Please do let me know if you need further inputs from my side. Thanks.
Tamas