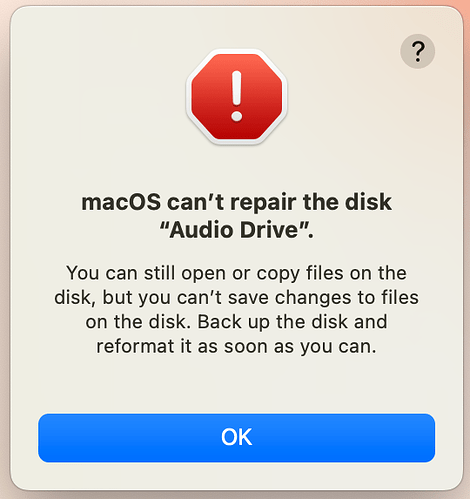 Roon Core Machine
macMini (M1, 2020), 16GB RAM, macOS Monterey v12.5
Networking Gear & Setup Details
Network not applicable. Roon installed on macMini and music stored on external hard drive. The macMini outputs music via USB to an external DAC (Bricasti M1) and that's connected to my stereo via analog RCA cables.
Connected Audio Devices
My macMini is connected to a Bricasti M1 DAC via USB cable. I have my music stored on an external hard drive connected to the macMini via USB, and I use my TV as a monitor via HDMI cable.
Number of Tracks in Library
Over 87,549
Description of Issue
My storage drive - 8TB hard drive connected to my macMini via USB - is going bad. I got the attached error message saying "macOS can't repair the disk 'Audio Drive.'" This is my external storage drive for my music library. I'm no longer able to write to the drive.
I can't fully back copy the drive to another drive because many files can no longer be read. However, I have another drive with all my same music files on it.
I'm trying to point Roon to my other drive as my new Storage drive. However, after Roon does all its processing, I lose a lot of album art and tags, etc.
Is there a way to point Roon to another storage drive but preserver all my metadata and tags and such? What's the best way to point to a new storage drive but not lose my settings? I do have a full Roon backup from the original drive. I tried restoring that, then pointing Roon to my new Storage drive, but I lose settings.