Core Machine (Operating system/System info/Roon build number)
Nucleus+ (Version 1 build 186)
Network Details (Including networking gear model/manufacturer and if on WiFi/Ethernet)
Ethernet
Spectrum modem --> Orbi router --> (Ethernet) switch --> (Ethernet) Nucleus+
Audio Devices (Specify what device you're using and its connection type - USB/HDMI/etc.)
(Ethernet) to Sonore uRendu (USB) Chord Qutest
Description Of Issue
I'm using a Roon Nucleus+ to send data via Ethernet to my Sonore uRendu which is USB connected to a Chord Qutest. When setting up the device in Roon settings I am presented with: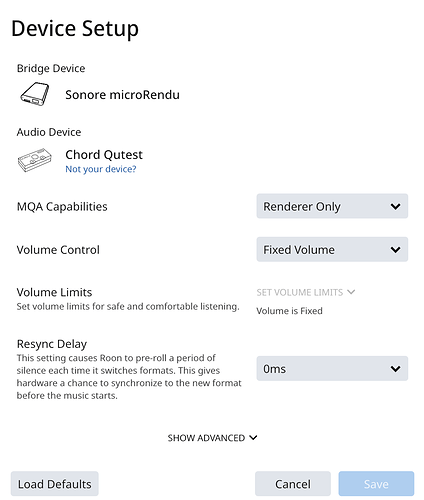 In device setup I see: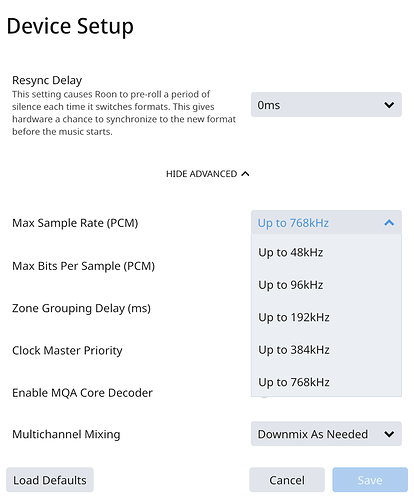 There is no DSD Strategy presented. The Qutest is DSD capable (from Chord's web site):
Connectivity (input): USB Type B (White): 44.1kHz to 768kHz – 16bit to 32bit
2x BNC Coax (Red): 44.1kHz – 384kHz – 16bit to 32bit
1x Dual data mode input (using both BNC coax inputs together): 44.1kHz to 768kHz – 16bit to 32bit
Optical (Green): 44.1kHz to 96kHz – 16bit to 24bit
Connectivity (output): 1x stereo pair of RCA (Left and Right)
PCM support: 44.1kHz, 48kHz, 88.2kHz, 96kHz, 176.4kHz, 192kHz, 358.8kHz, 384kHz, 717.6kHz, and 768kHz.
DSD support: Native playback supported. DSD64 (Single) to DSD512 (Octa-DSD)
I have DoP selected in the uRendu Roon config section (I tried Native DSD also). Sonore when contacted said, "It appears Roon does not think it supports DSD via DoP so you are getting PCM only." I have rebooted, the uRendu, Roon Core, and Nucleus+.