Hi Roon,
Now I have given up and hope instead that you on "Roon" can help me to get my new computer with WinDos11 Home to work with "roon" as well as my old computer with WinDos10 did with Chromecast…
My computer:
Device name TOBBE DESKTOP.
Processor AMD Ryzen 7 4700U with Radeon Graphics 2.00 GHz.
Installed RAM 16.0 GB (15.4 GB can be used).
Device ID E363312C-7FBE-494A-BD04-5E89E15B47A1.
Product ID 00325-96696-33157-AAOEM.
System type 64-bit operating system, x64-based processor.
Pen and touch screen Pen or touch input is not available for this monitor.
Edition Windows 11 Home.
Version 21H2.
Installed 2021- 11- 25.
OS version 22000.434.
Interface Interface package for Windows functions
1000.22000.434.0
This is the situation (and excuse me for me the google translation

) …
I am super happy with roon and the reason I bought a life time license is because I LOVE MUSIC … but now I have unfortunately been forced to reduce the use of "roon" as my primary music streaming service as I now have problems getting it to work with my "Anthem AVM 70"… it is promised that Anthem will update the new generation of MRX & AVM devices with Roon soon, but what "soon" means there are probably divided opinions about.
While waiting for Anthem's promised update to implement the "roon", I'm referred to streaming via the device's built-in Chromecast feature. This has worked flawlessly until I replaced my computer and got rid of the old one. At first, I thought this "Roon / Anthem" problem was related to my Anthem AVM 70, so I've had to go back to streaming from Tidal directly to Anthem's chromecast. Tidal, Spotify, YouTube Music and "all other" audio related sounds that can be casted via chromecast from my new computer to my Anthem AVM 70 works without any problems, but unfortunately not "roon" anymore.
So, what to do to fix the problem temporarily … ran away and bought me a "roon tested" Google Chromecast "4th gen" … and guess what … "roon" still does not work… but then I did realize that everything else works without problems. So there fell my theory that this was an isolated problem to Anthem's device. After further tests it turns out that all equipment with chromecast has exactly the same problem with my new HP computer.
Contact the "new owner" to my old computer, borrow it back for a new test, and guess … "roon" works just fine with every single chromecast device I can get to do a test with… including my AVM 70 !!!
So, while waiting for Anthem to fix their problems with getting "roon" and "Spotify connect" to work, (which I seriously start to believe that they will never will get to work with regards to the time it seems to take and that you do not get any kind of answer from anyone when the question is asked … more than silence !!!) I would kindly like to beg "roon" for help to get "roon" to work with my "new nice expensive laptop" with the "latest operating systems" and the "latest updates" before I give up and sell everything on the used market …
I'm really not an expert on computers and the once I know, and for sure do know more than me, don't know either where the problem may be. So, I really start to give up…
Anyway… here's what happens when I try to cast "roon" with my new beautiful computer to a device with Chromecast built in:
I open Roon on my nice HP computer with OS WinDos11 Home

Selects [Settings]> [Audio]

Then I see all available devices that can be activated

I choose one of the chromecast devices

When I "press" [Enable] on the screen to select one of the chromecast device, I hear a "ping" from the speakers

The [Enable] push button, for the chromecast device, does not switch to the "settings symbol" but remains as a [Enable] push button !!!
When I do the exact same procedure with my old computer, the [Enable] push button disappears immediately and the entire field showing that the chromecast device switches over to an enabled audio device and I can do the settings. Then the activated chromecast device appears as a selectable device when you press the "speaker icon". I select the device from the listed units and start casting to the selected chromecast device. The music starts without any problems… easy, isn't it

Please, help me to understand what it is I need to change on my computer to get "roon" working with chromecast… while waiting for Anthem to successfully implement Roon in their devices… or if I should just get rid of it and find an old computer as works with "roon".
Thanks in advance !!!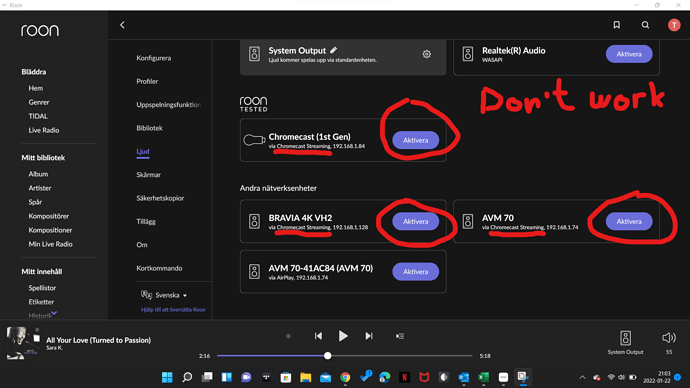 Networking Gear & Setup Details
Connected Audio Devices
Number of Tracks in Library
Description of Issue