Setup
Roon version 1.4 (build 310) 64 bit
macOS 10.13.4
iMac w/ i7, 32 GB RAM
Music stored on iMac's hard drive
8452 tracks in collection
Issue
For the most part playback seems pretty flawless, but I have found a particular album that consistently exhibits clicks and pops between tracks on all outputs. I would have normally expected that the issue would be with the album files themselves, but I confirmed that other players (iTunes, JRiver) play back these files without any pops between tracks. The clicks and pops happen for all outputs/zones, including the built-in iMac speakers, an AudioQuest DragonFly 1.2 DAC (tested in both exclusive and non-exclusive mode), and a Raspberry Pi running RoonBridge with a USB DAC. My primary listening device is the DragonFly, so I've uploaded screenshots of the the settings I'm using for that.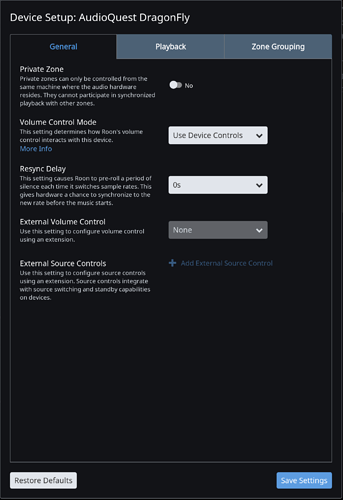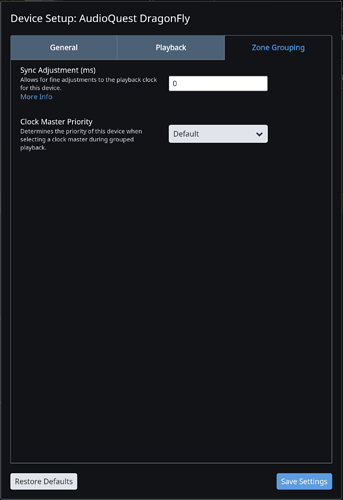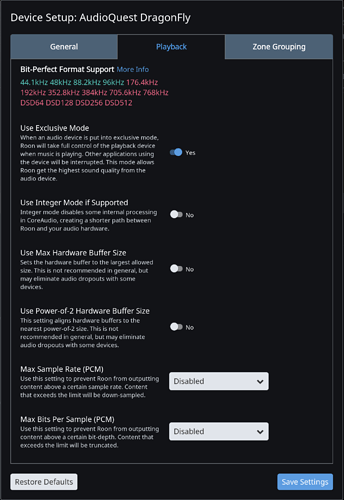 Media files
The specific album is the soundtrack from the movie "Once". Files were ripped from CD using dbPoweramp with AccurateRip verification. Bit depth 16, 44.1kHz sample rate, AIFF. The album isn't really a "gapless" album (by which I mean that no track leads directly into another track without a break in the audio, so I just expect silence between the tracks). So far this is the only album I've found in my collection with this problem; other albums (both with true gapless music transitions or discrete tracks) seem to play back without this issue.
If it would be helpful for testing I can upload the troublesome tracks to a shared folder somewhere. Happy to try any other suggestions too though! @support
Thanks!