I have several movie soundtracks that I classify consistently with Genre "Collection", Album Artist "Soundtrack".
When I loaded the La La Land soundtrack album into Roon, I did the same thing. This time it shows the whole album as one entity with multiple parts.
I then found that there is the ability to control how Roon handles this in Album Editor/Edit Album.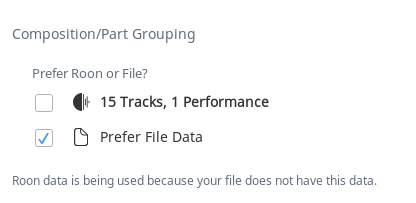 The problem is that when I tell Roon to NOT treat the album as one composition with 15 parts and just use the tag data, Roon says I cannot do that because my file does not have the data.
There is an Album Type, which is set by Roon to Soundtrack but the other choices make no sense to me.
I have 42 other soundtrack albums in Roon all with Album Artist as Soundtrack and Genre Collection and none of them has this issue. That suggests this might be a recent enhancement so pre-existing albums were not caught in the same net.
Any suggestions how I can get back to where I want to be?