An option to customize the purple should be built into settings, something like:

Anyone get the jriver email today…
It read in part, and I quote
" Why Choose JRiver?
You might well ask. We did ask, and our customers told us why they love JRiver:
A Big Thank You to Matt and the guys at MC for "actually listening to your users" and, where possible, making the changes we ask for instead of doing what a lot of other Software Companies do; pretending to listen and imposing Solutions/Updates that the majority of users don't want or need, frequently because their so called updates breaks more things than they fix."
I'm voting for this theme

Only yesterday decided to switch from the light to the dark theme. I spend way too much time behind a computer screen and my eyes were getting really tired. Once I saw the blue on black theme, I switched immediately.
Beauty Blue Theme v1.0 [Win]
Preview:

Instruction:
Restart Roon and choose in the menu new theme. It will be named as Unknown.

Enjoy.
Link: https://www.dropbox.com/s/9bhgoxb674z2cdt/Blue.rar?dl=0
Disclaimer:
This is not the official release. You make changes on your own risk.
Is there a possibility to slightly reduce the font size?
Depending on the choice and the spacing, there are newlines.
A change (such as 48> 42 or 36 or in html) should be tested depending on its screen.
Oh how I wish I could do this on Android too. Hopefully I don't have to wait too long for Roin to implement the "adjust colour" and "adjust font" settings in the Android app.
was able to edit the color file on macOS and made a theme around my favorite emacs color: firebrick…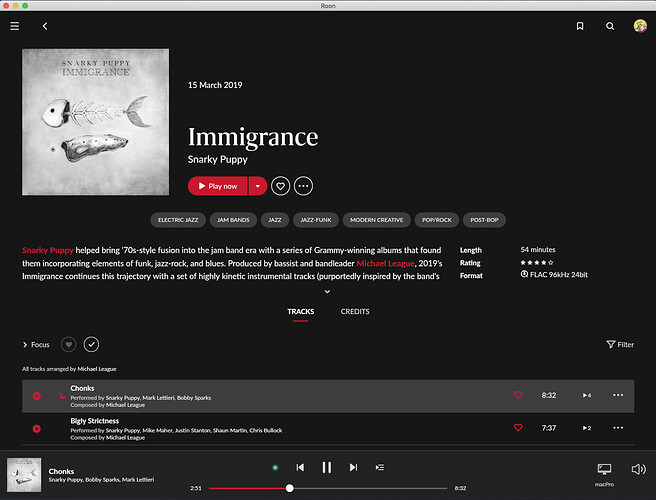 also set the genre view to something warmer and less glaring: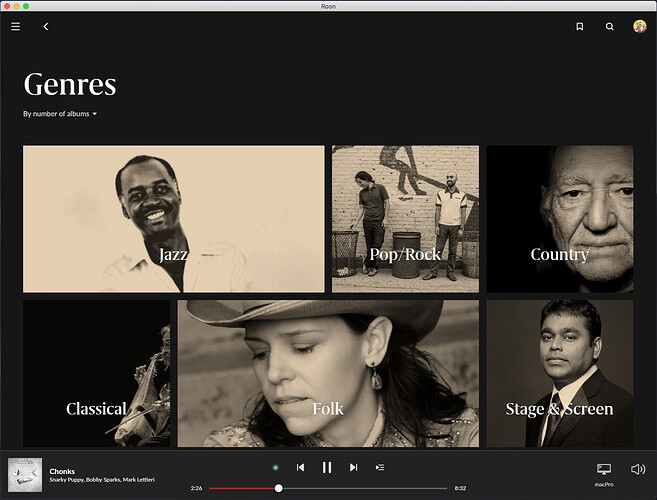 here is the recent listening data section – still poking around to find the color that is mapped to the genre chart:
Wow, all these custom themes are much better than the original ones! Definitely gonna create my own during the weekend.
@danny @enno @mike Please take this thread as an inspiration to improve upon the current official themes.
hey @aKnyght , please where is the file with color settings located in MacOS?
thx!
Can I disown my own thread?

I started it to point out that roon hadn't hard coded things, and it was pretty easy to create new themes.
I'm not a massive fan of having loads of settings. Or hacking around. I think the signs are good that roon have a mind to making this easier in the future.
With that said, I'm ok with their colour choices and their fonts…
see this post – good luck
Too late, you're doomed!

Growing up I had a picture of a gulf racing Porsche 917 on my wall. I still do, actually. I've gone back to the defaults but did make a blue / orange scheme before I did. Bit of nostalgia!
Classic JRiver. Mean spirited, and putting a pleasant spin on the fact it hasn't substantially changed in eight years.
I got the email too, but didn't read it. What's the point of paying for a new version that doesn't really do anything more than the one I bought five years ago?
I've just started going through creating my own theme - sorry @anon73739233, it's way too late to take it back now - and I'm having trouble tracking down the following: atom-green and atom-selectable-blue. Does anyone now which part of the UI are covered by either or both of these?
In the software landscape these days, this is not a bad thing. It's just a tool that you can use to do the job (I see most of the software as tools helping me to do whatever task). Right now roon it doesn't do that so for that part I'll vote with consistency, stability and usability, regardless the development cycle or progress or novelty.
The point is that you can still use the old version, and i believe this is a big point!
Always make a backup of original

atom-green #57C6B9
atom-selectable-blue #193A5E