Anybody here speaking Czech and willing to participate in the translation of Roon UI?
Hello, i help with translate Roon to Czech language

Krásné! Velice si přeji, aby se Ti dařilo. Roon v češtině, to bych rád.
Hi, have started to contribute to the Czech translation recently and in some cases I am wondering if it is better to translate really everthing - example - "playlist" is translated currently as "seznam skladeb" - but I think many would by now consider word "playlist" domesticated and I find the word-by-word translation strange myself. Please can you share your views? Thanks!
Playlist is a good example of a word that I think is better left untranslated because Qobuz and TIDAL also call it "Playlist". If you translate it, then the phrase "Roon playlists" will be translated (in the case of the Czech translation "Roon seznam skladeb", the number of characters should also be considered), but in the mentioned streaming services this word still remains untranslated.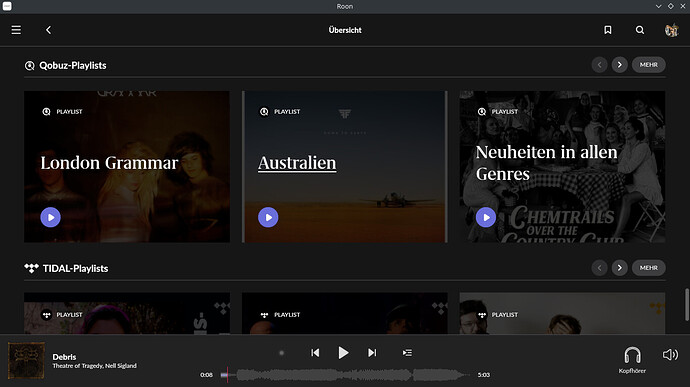 An important rule for me is that the translation should not be longer than the original English text. Take your smart phone in portrait mode and you will see what I mean.
I'm actually also in favor that if you translate, then everything if possible, but just in this particular case, I think it's better to leave this word as it is.
See the "Common Words" of other languages (German for example, where I'm the main translator for) and the comments on them to get a taste for it.
Thank you, that is very helpful. But I have seen many existing occurences of this translation and others already done for Czech translation. The common word section you linked loos really usefull, but for Czech it shows all of those common words as "MISSING". I think it would be really helpful for the efficiency of the translation process if we could establish these first and then every contributor could stick with these, instead of voting on various translations of larger text blocks, where we have no easy way to promote consistency

Please do you know how we could fill the translations for the Common Words like you have for German?
Ok, I have done what I should have done first… - read properly the Translations Usage Instructions (helpfully linked from your German translation home-page). So I have sent a PM to Mike volunteering to become language admin for Czech…

Ok I was to slow. I was just about to answer you, but I will do it nevertheless:
This is a general problem that currently also annoys me. This way it is very difficult to get consistent translations. I hope that there will be some changes in the translation tool in the future.
My idea and that of other translators is that there should be something like senior translators or moderators.
You must be a Translation Admin to edit the Common Words. Apparently there is no one for your language or no one has taken care of it yet. How you can become one is described on the following two pages:
I have already invested a lot of time in Common Words and also made many additions, but I think only few people are reading it.
Well, I have been slow to read the guidance which WAS available - just proving your point about people not paying proper attention… Well, we are not professionals in this field (I am not).
As a language admin, do you at least see who is contributing what? I am thinking about how best to reach out to people who contributed already and how to arrive at the consensus about the common words and the language rules/notes… So far it seems, that this forum is the only place for that.
Thank you so much for sharing your experience and your help.
I don't think any of the translators here are professionals, but I'm convinced that everyone is doing their best.
No, and thats another issue that I have with the translation tool. You can only comment under the translation. But I'm afraid that even the comments are read by very few.
Ahojte,
je nějaký posun v překladu?Ne že by nešel ovládat v AJ ale nastavení a informace by se hodily.Zkoušel jsem Amaru i Audirvanu ale Roon se mi líbí více.Dívím se, že za ty peníze si už dávno Roon nenechal udělat překlad.Díky za info Honza
Ahoj Honzo, bohužel, překlad je na nás - uživatelích/dobrovolnících… Aneb "urob si sám"

Předpokládám, že stránku na které je stav překladu (aktuálně 30%) jsi našel? Každý příspěvek je vítán… https://translations.roonlabs.net
Vzhledem k tomu, že je to na dobrovolné bázi ve volném čase, tak procenta přibývají pomalu, ale postup je viditelný… Tom
Ahoj Tome,
rád bych přiložil ruku k dílu ale bohužel anglicky neumím

Díky za info a doufám, že se najde pár zapálených lidí a překladu se dočkám.Docela vážně uvažuji o koupi ROON…Honza