Roon Core Machine
Intel NUC 10, i5
Western Digital 250 GM WE Blue SN550 NVMe Internal SSD
Crucial RAM 8GM DDR4 2666 MHz CL19
Operation System Version 1.0 (build 227)
HDD attached via USB for stored audio files.
Networking Gear & Setup Details
Xfinity Gateway attached to Netgear GS108PP switch. Core attached to switch.
Connected Audio Devices
Remote:
2017 iMac Retina 5K, 3.5 GHz Quad-Core intel i5
16 GB memory
Roon 1.8 (build 814)
Note that the remote is connected to my network via wifi. It is near an access point and has a fast connection.
Attached to DAC via USB:
Grace m920
Other Audio Devices in Use:
Iphone, Ipad, KEF LSX, all working ok.
Library Size
32,000 tracks
Description of Issue
My DAC (mentioned above) is detected and enabled according by Roon, and appears in the settings. I can see my Tidal and local content in Roon. But when I try to play content on the DAC, there is no audio. The "track" skips to the next after 10 seconds or so. The DAC works fine playing from the Tidal app on my PC. And Roon works fine from other devices. I've turned everything on and off, rebooted, etc. That worked in the past – this has been an intermittent problem. It hasn't worked at all the last few days.
Audio path images attached showing local content and Tidal MQA. When this worked, it used to show my m920 DAC in the audio path. UPDATE: This is now working, for the time being, after a restart of everything. Attaching a screenshot showing the path when it is working. The m920 DAC is indicated.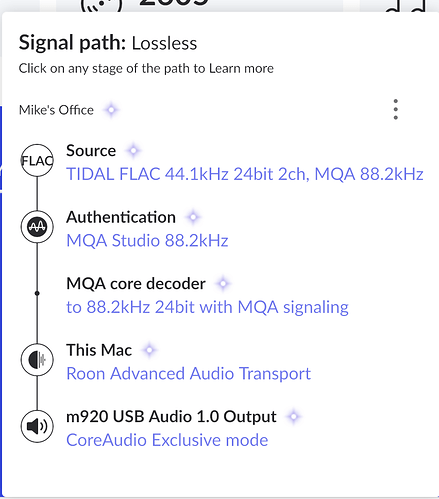 Thank you for your help!