This Harmonia Mundi recording has no composer or composition credits - just a list of tracks. Product code is 5414939981500.
Hi @Geoff_Coupe,
The team is looking into this. This particular issue is a bit more complex than just incorrect metadata from our provider, so we are investigating what we can do better here.
We appreciate the report!
Hi @Geoff_Coupe, was this Qobuz/Tidal/Download or your own rip?
I am seeing this a lot with Qobuz on roon. No metadata except tracks. Missing composers on core repertoire. Here, for example no composer credits for Brahms. Very common, Very strange.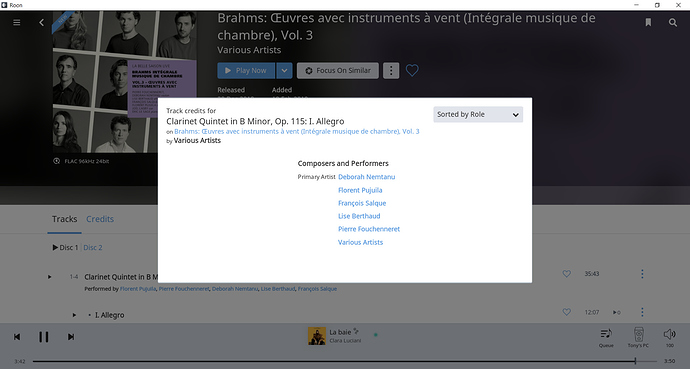 Agreed - seems like a bit of ironing out still needs to happen between ROON and QOBUZ. Not surprising given the complexity. The complete Berlioz from Warner is also a case in point - listed tracks stops at around 150 although the queue recognises the full track listing.
The listed tracks stop after 180 on any album (streamed or ripped). This is a known issue, and it's in Roon.
Oh dear. Then it is systemic. I was just randomly going through the Qobuz press awards to see if there was anything I liked. Very variable. Sometimes the metadata is very complete other times almost nothing. Very strange there would be no composer credits on a site that positions itself as a Classical streamer. Is there a roon integration issue here?
PS: Well I have answered my own question. Similar issues starting to pop up in several threads.
Tony, see Dylan's answer at the top of this thread. There's an issue, and the Roon team are investigating.
I have a lovely collection of 50 discs, purchased from Qobuz, the first 25 of which can be found as "Baroque Era Volume 1". They are sorted by disc and can happily be generated into a 480 item playlist.
Yes, I know that playlists are not limited, but at the moment, a "disc" in Roon can have no more than 180 tracks…
That's a very long disc, unless Glenn Gould is being recorded one note at a time (and his Mozart sonatas have that feeling).
Unfortunately, it's not unknown these days. For example, this compilation of Berlioz was released by the label as one disc of 424 tracks…
Listening to the complete works of Berlioz is not recommended in any event.
I was reading Osawa saying Berlioz was so crazy interpretation was not really necessary, just play it and let the audience decide (or words to that effect).
Chacun à son goût… I like Berlioz…
Searching classical even on Qobuz OSX is a bit stressful, but the more complete the metadata the better. If someone could include those pieces by Felix Mendelssohn written by his sister, that would also be helpful.
In the year before he died he met Queen Victoria, a keen pianist, who apparently mentioned her favourite piece of his, that was apparently hers.
You old Romantic … he's featured in this month's Gramophone issue, may now be forced to read, listen and learn.
Alas, I no longer have a subscription to The Gramophone - something that I should perhaps rectify. There are definitely times when I miss it…
They are of course online and in bed with Qobuz