OK Music Fans! We're down to the last week of the challenge! I'm bringing you some aural respite after the overwhelming response to Barry Gibb and brothers (apparently only a couple of us actually like the music!). So this time no falsetto to be found, and the music is decidedly plain.
Only 21 on this album, the highly acclaimed Colter Wall (Steve Earle claims that Colter is the best artist and songwriter he's seen in 20 years) is channeling Johnny Cash, a sound he cultivated over the next couple of albums.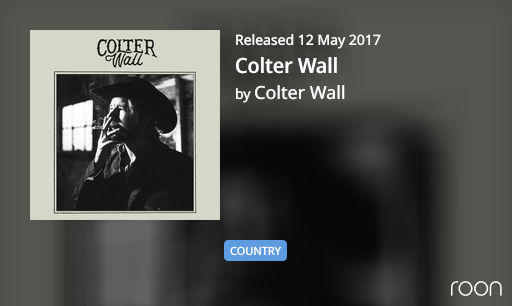 I'm hoping we won't have any problems accessing this album in the UK. I checked online and it seems to be available in both Tidal and Qobuz, so my fingers are crossed.
Let me know what you think!
Something in this speaks of greatness (5 stars)
Meh…(3 stars)
Booorrrrring (1 star)
If you haven't voted on yesterdays album, get your vote in here: Day 23