Since it has a docking station I will just have Roon on all the time with auto-sleep disabled.
Majority is just my phone. Now and then computer or tablet.
Really?
Seconds??
I truly can't say as I see that type of delay at all
I use an old iPad mini4 and it's near instantaneous.
In the order of half a second, about as long as it takes me to find the pause or skip button.
Obviously ymmv but that's shocking.
Perhaps Android takes longer, especially if Roon is in the background.
That is a very likely possibility, its actually one of the reasons I keep the ipad min4 as i really only use it to control Roon…and check what I can buy on ebay and discogs…lol
Peter take a look at this with another user who had problems with Andrtoid.
It might help you Android remote app doesn't work - #7 by Rugby
Certainly turn off battery optimisations etc. I have the same issue on my 1st gen iPad Pro, there is not enough memory for Roon so it keeps putting it out of memory and restarting it, and it is a pain. None of my Android devices suffer this as I have disabled it
I have an iPad Air 4th Gen but I hate the Touch ID on the top bottom. I do like better the old Home Screen button. I also have an iPad mini 2 but it's painfully slow. While I was checking last night on Apple I saw that as soon I placed an iPad mini 5 in the shopping cart, Apple offered me to trade in my iPad mini 2 for $85, which is GREAT so I went ahead and placed the order for an iPad mini 5, 64GB Space Grey

Total was $314 financed with my Apple Card

Thanks for sharing this link. After I saw this, I decided to try the Smart Tab M10 HD (2nd Gen) with Google Assistant as screen while listening to music with Roon and working out on my Echo Bike. I got it for $129 from my local Walmart. It was OK but owning an iPad mini 5 and an iPad Air 4th Gen (2020) I'm spoiled with the Retina display resolution and the Lenovo is only 1280 x 800 so I ended returning it. So decided to go check on my local Best Buy as they have the M10 FHD (2nd Gen) which is 1920 x 1200. Well, the FHD is another story. The screens looks great, not Retina great but good enough to not been spoiled. So went to Lenovo website and ordered the Smart Tab M10 Plus (2nd Gen) with the Google Assistant with 4GB RAM and 64GB storage. Got it today and let me tell you, this thing is GREAT as a secondary screen, photo frame or Roon remote and it's only $212 shipped. It's so good that I ordered a second one today for my living room which I'm going to use as digital photo frame and to control my Pro-Ject Stream Box S2 Ultra. I'm a Mac guy and this is my first Android device ever (well I have 2 Sony OLED TVs with Adroid TV if that counts) and to be honest, I feel these work great as Roon remotes mostly considering they cost 1/4" of what I paid for my iPad Air

My only recommendation is to get the Plus or FHD as the HD resolution is not any good and it looks grainy. Also consider getting the one with 4GB RAM and 64GB Storage as it works very smooth when surfing on Roon.
Here is the one I got from Lenovo:
https://www.lenovo.com/us/en/tablets/android-tablets/lenovo-tab-series/Lenovo-TB-X606Smart-Tab/p/ZZITZTMST0X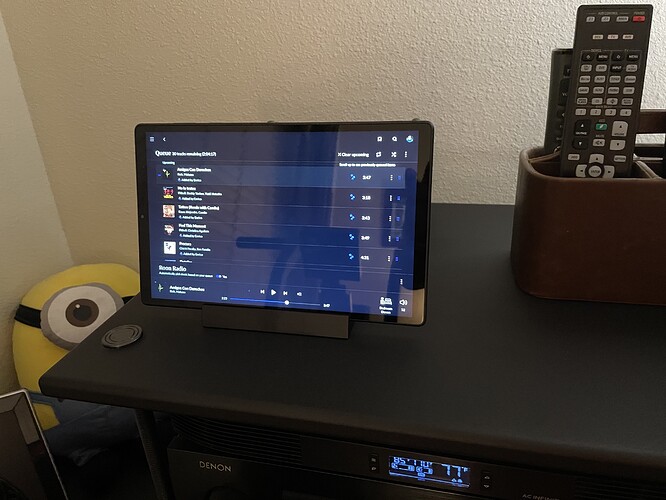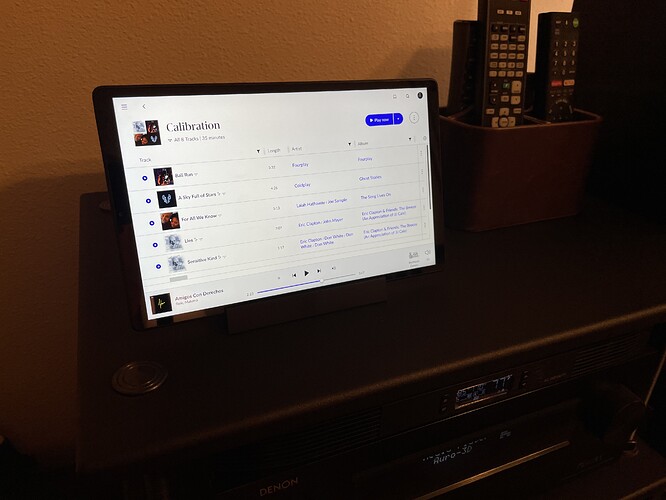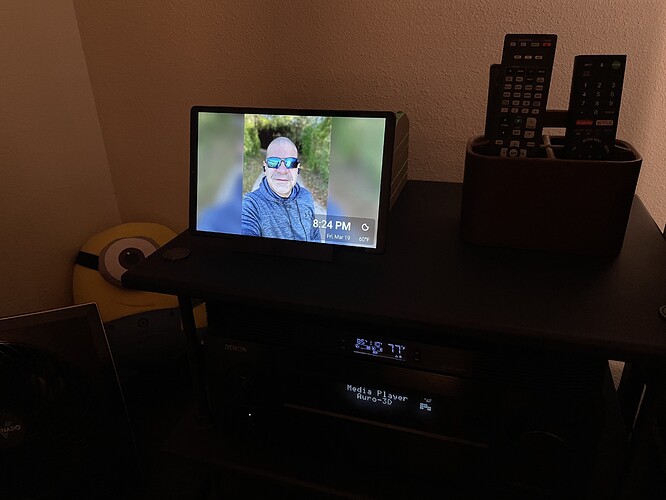 iPad mini 5 and iPad Air 4th Gen on Satechi Stand

Not as fancy as the B&O but it works and I can switch between iPad models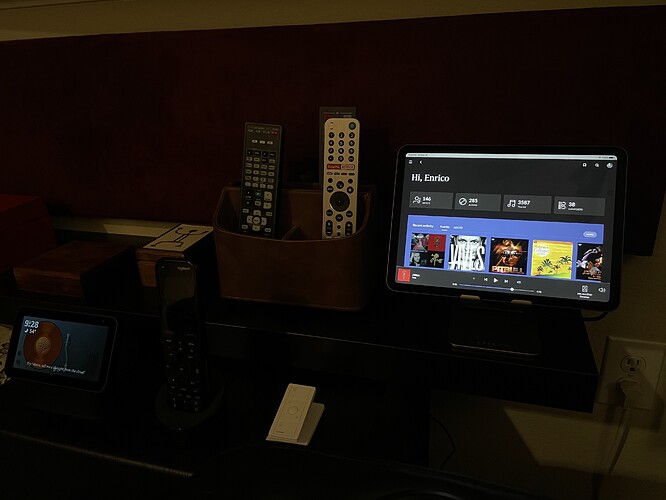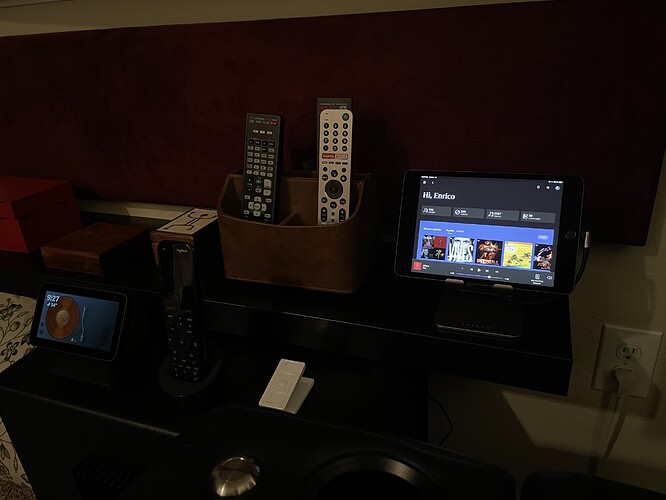 Looking good and a very fair price, worth consideration.
I am pretty happy with my iPad mini4 which i bought used off eBay for $250 but always looking for new options.
Thank you
What amp are you using? the play/pause/skip buttons on the remotes of my NAD amps work when using roon as do the ones on my Denon and Marantz remotes when roon is via airplay. I also have a node 2 which is set up too use the buttons on the Marantz remote. Two Pulse mini 2is that are controlled by apple remotes, these I really like and are £20 on Amazon.
James
I have Denon X6500H (bedroom) and Denon X6700H + Schiit Freya+ (living room). I use Harmony Elite remotes to control all my equipments.
I like the M8 because it is too slow and too small for web browsing.
If it is too good somebody will soon use it for something else. Before long, it is nowhere to be found and I am back to square one.

We have an iPad Air and a Samsung Tab S6. Both very nice tablets. But they like to play hide-and-seek. Even if found, they are usually out of juice…
Yeah, I wish the screen is nicer. Not just resolution but the viewing angle is also not ideal. But for $99 with a dock I am not complaining.
The dock for the S6 alone would cost $60. That is ridiculous.
Lots of screens for any occasion including LG OLED65C7P, DELL XPS 15 4K Touchscreen, Apple iPad Mini 4, RPi4 w/RoPieeeXL, and iPhone 11 Pro Max (not shown).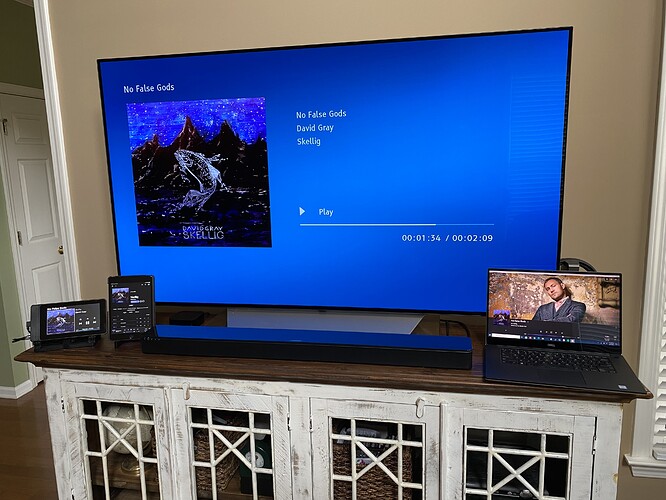 About to forget this one, Nexus 7 (2015).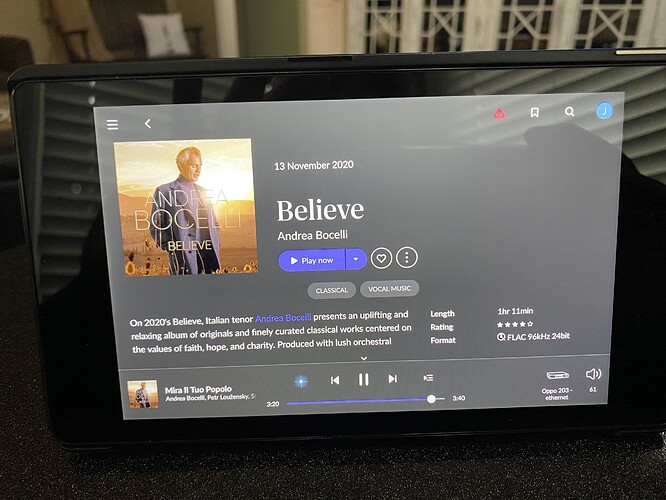 How did you change the look of the Display on your LG? Do you think OLED burn-in will be an issue? I also have an OLED (Sony A8H) and I kind of regret having gotten one.
That's what shows up when running a Roon Nucleus connected to Oppo 203 by ethernet and HDMI out of the Oppo to the LG. I've had the LG screen replaced twice under warranty, but the burn-in wasn't from Roon, it was from MSNBC "Breaking News" banner.
Ah, so that is the Oppo UI then.
My next tv will not be an OLED.
I don't know about an OPPO user interface. It's just Nucleus to Oppo via ethernet then HDMI to LG HDMI to Bose. That's what shows up on the screen. I only get that when using ethernet to the Oppo. I don't get it with HDMI from Nucleus to Oppo.
I ordered up the gear to build a RoPieee but have since realized that it's just an endpoint with basic playback controls, which makes it largely useless to me as I might as well just listen via my dap or a tablet if I want meaningful music browsing and such. I've heard that you can also run the web control extension on a pie with a touchscreen and am wondering what I'd need to do to set that up.