Roon Core Machine
Windows 10
Networking Gear & Setup Details
N/A
Connected Audio Devices
Dirac multichannel → PinkFaun multichannel bridge and Xonar U7 (for testing)
Number of Tracks in Library
n/a
### Description of Issue
Since build 880/882 I cannot use roon with Dirac in multichannel mode.
Note, if I use Dirac in stereo it works with roon :

and it works in multichannel mode with all other applications (JRiver, Netflix, Windows, …)
When I switch to multichannel as I was used to, it fails.
I describe below how I was using roon before build 880/882 (scenario A below), and the workaround I found (after 3 full days of investigations!!) to make it work with lots of limitations (see details in B).
It seems to be an integration problem in multichannel mode beteween roon and Dirac since build 880 or 882.
→ Could you investigate this issue and provide me an older version of roon (850/880) to allow me to listen to my music properly until it is fixed please?
A. Prefered setup (not working since build 880/882)
A.1 roon signal path
A.1.1 Convert to multi channel (2>4.1)

A.1.2 lowpass subwoofer
A.1.3 highpass all speakers but sub
A.1.4 roon output device
Output is sent to dirac processor in WASAPI exclusive mode:
A.2 Dirac setups
I tested with 2 different sound cards and both have the same behaviour (Xonar U7 and PinkFaun I2S multichannel bridge):
A.3 Error
When I use this setup (which WAS working before release 882), roon cannot initialize the device:

Notes:
⦁ when using the target devices (PinkFaun and Xonar U7) without Dirac processor, it works fine
⦁ all other application can use Dirac processor without any problem
→ it seems to be an integration problem beteween roon and Dirac since build 882.
B. Workaround setup
It took me 3 days (!) to find a way to make work in degraded mode which is by having the output of roon in stereo and let JRiver convert to multichannel and use Dirac as plugin rather than Dirac processor in nativer mode (as before).
Not a good solution because:
It prevents to use all roon DSP capabilities as it does not control all channels in that mode (which is one of the 1st reason why I paid the lifetime license !!)
Signal path is longer, and 'cracks' are audible sometimes when switching songs
I stacks additional programs making it more complex to configure which can cause errors (and to buy them !)
I need to reconfigure Jriver each time I switch from movie to audiophile listenning
B.1 roon signal path

B.2. JRiver signal path
B.2.1 Convertion to multichannel (2>4.1)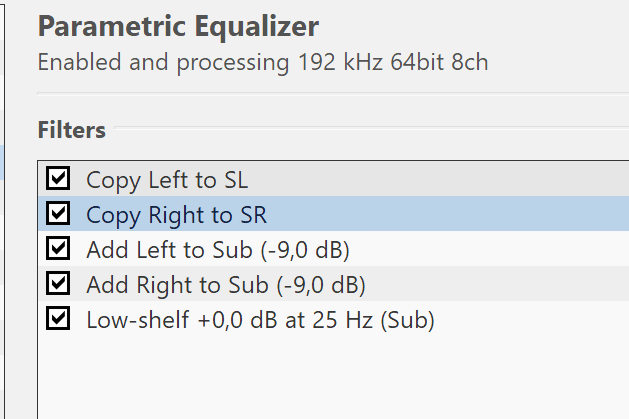 B.2.2 room correction with Dirac multichannel as JRiver plugin

B.2.3 JRiver output (8ch WASAPI exclusive)