You can add me to the group who is having same issues backing up the DB to Dropbox.
Hello @Henkemannen, and thanks for your report! We try to keep issues separate so we can focus on one person at a time. For your Dropbox issue, are you having any issues making local backups? Have you checked to see if your Dropbox account is full?
So we can better assist you, please provide a brief description of your current setup using this link as a guide.
Make sure to describe your network configuration/topology, including any networking hardware currently in use, so we can have a clear understanding of how your devices are communicating.
Hi nuwriy,
I do not use Dropbox for local back-up (i.e. I have not installed the Dropbox app in the Finder (see further my set-up below). This error simply started one day. Cannot find any explanation as to why. I deleted all my items and have 2GB of storage (free plan) on Dropbox. I do not have any issues making local back-ups to two separate drives.
(I hope the below is sufficient re my set-up)
Details on your Core machine (OS, Hardware specs, Roon build): macOS Catalina 10.15.6, 2015 iMac, Roon build 1.7 build 571

Details on your Remote(s) (OS, Hardware specs, Roon build): no remotes (all locally attached drives)

Networking details (especially what hardware you're using, how everything is connected, and anything notable about how it's all configured): wifi router, 5G frequenzy

Audio devices in use: none (using Bluetooth headphones)

Library details (where your music is stored, whether you're using a streaming service, how many tracks are in your library): Library stored on internal iMac drive but music files stored on external drive connected through Thunderbolt 2
Hello @Henkemannen, can you send me a screenshot of the error you're seeing? Thanks!
So interesting change since last Roon update - dropbox backup now STARTS working but after 24 hours trying is still stuck on 18%…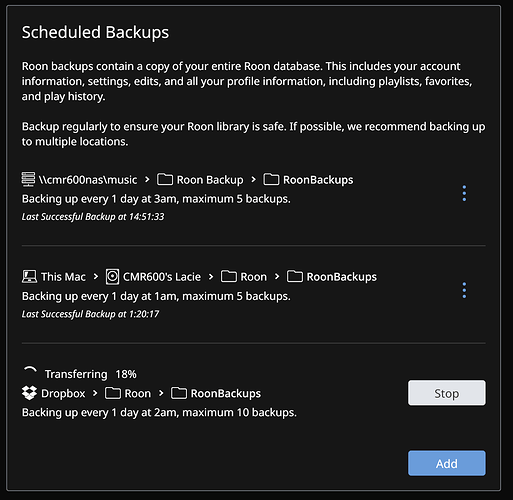 This is a known long time issue with Dropbox backups. If you use the standard Roon setup it can takes days to back up to Dropbox.
Workaround is easy enough, but you'll need to install the Dropbox application and set it up so there's a a Dropbox folder available via the Finder. Once this is done:
Go into your scheduled backups and edit the Dropbox one.
Click on Browse and then select your hard drive from the left side and then click through to Users -> your user -> your Dropbox folder.
Save this, then you'll be all set.
DB folder is already in Finder.
This is exactly how I set it up and the issue still there.
Thanks!
From your screen shot, Roon is set up using its default direct link to your Dropbox account. Are you saying you've edited it to select the full path as I wrote? Should look something like this: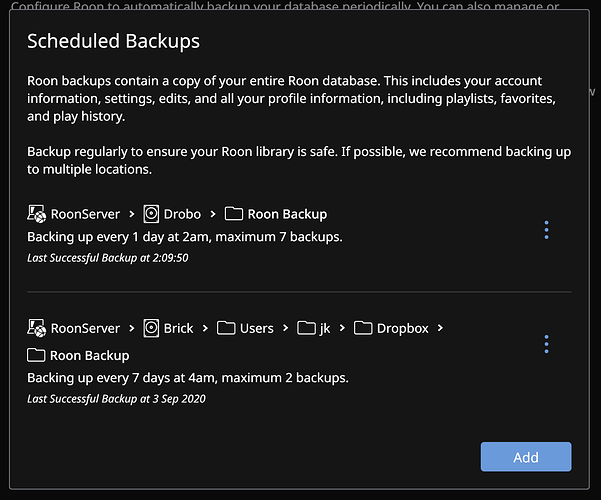 By doing it this way, Roon will do a speedy backup to the local disk, then Dropbox will do the upload to the cloud.
ooooh interesting - let me see!
This topic was automatically closed 365 days after the last reply. New replies are no longer allowed.