Roon Core Machine
Debian bullseye, AMD Ryzen 9 3900XT, 8GB
Networking Gear & Setup Details
mikrotik CRS328-24P-4S+
Connected Audio Devices
various windows and linux systems
Number of Tracks in Library
around 10000 tracks
Description of Issue
With volume levelling enabled (at the default setting of -14LUFS), occasionally some albums play with a volume levelling value of +0.0dB.
This happens with albums from Tidal, and when it does, there are usually multiple versions and only some are played too loudly.
Roon radio will occasionally pick these badly levelled albums instead of the sensibly levelled versions, and suddenly I'm listening to very loud music (which was what I was hoping to avoid by turning on levelling in the first place).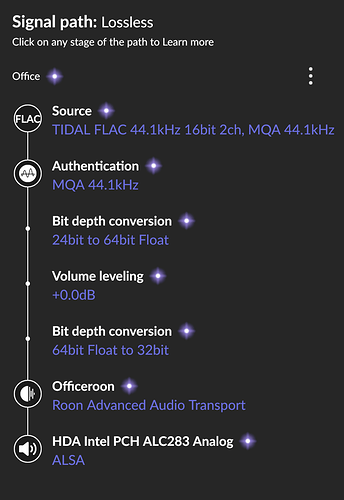 One album I see this with is "Not in Chronological Order" by Julia Michaels, which has 5 different versions on Tidal, 2 of which have incorrect volume levelling for me. There are many more.
For this particular album (and I'm too lazy to hunt for others right now, so can't necessarily generalize), if I apply progressively stronger volume levelling, the level adjustment shown in signal path will remain at 0.0 until I pass -18LUFS, at which point properly levelled tracks are quite quiet.
With volume levelling turned off, the different versions sound the same to me, so it doesn't really make sense to me that there would be a roughly 10dB difference in volume after levelling…