Roon Core Machine
Roon ROCK, OS ver: Version 1.0 (build 254) production, Roon Server Software: Version 2.0 (build 1182) production.
Intel NUC i5 - 8GB RAM - Samsung SSD 128GB
Networking Gear & Setup Details
Dell PowerConnect 2818 switch, one Telus ISP WiFi router, wired CAT5e ethernet network + WiFi
Connected Audio Devices
KEF LS-50W connected to the Dell switch via ethernet and the main computer Win 11 Pro, connected via USB to RME ADI-2 FS DAC ->balanced cables to Focal Shape 50 monitors.
Number of Tracks in Library
Rough number 6000+
Description of Issue
The issue started recently on the brand new computer running Windows 11 Pro, latest patches. When I try to run Roon I get this error: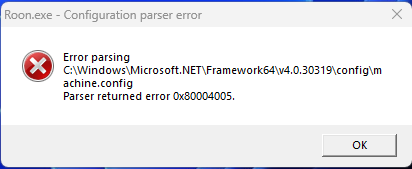 . I tried reinstalling Roon completely few times, it just won't start on this machine, always comes up with parsing error. What is even more puzzling is the fact that the Roon system works when I run it from iPad tablet or Android Pixle 6 phone as well as laptop that is running Windows 11 Pro as well. Everything plays just fine, this error only happens on this new machine. Any ideas would be much appreciated, thank you!