Actually, I think maybe it should be moved back to support, and here's why:
I actually should have tested the Export feature before I posted. Although it wasn't working correctly when I posted in the two threads that I linked to in my first post, I just tested it and the feature is now working … mostly. I've just tested it on numerous disks and nearly all were exported correctly with album and song titles, artist names and cover art exactly as shown in Roon. Bravo to Roon for finally fixing that.
But my testing did uncover one glitch. I wanted to see what would happen when I had multiple versions of the same album. I decided to use "Strange Days" by The Doors as a test. I have 3 versions of this album, one ripped from CD with 12 tracks (2 bonus), one ripped from DVD-A with 10 tracks and one downloaded from HD Tracks that had tracks numbered 1-20 in the download but that is shown in Roon as a 2-disk set with two 10-song disks. I selected all three albums and selected Export and Roon thought that it was exporting 42 tracks. So far, so good. But when the tracks were exported, I only ended up with 32 tracks in the export. Here's a screenshot of the export in Finder: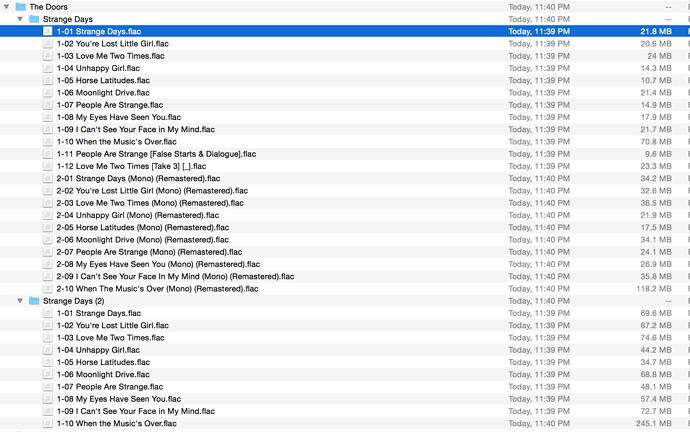 The version of the album listed as "Strange Days" consists of the 12 tracks from the CD version and the 10 tracks of disk 2 from the HD Tracks version. The version listed as "Strange Days (2)" contains the DVD-A ripped tracks. The first 10 tracks from the HD Tracks version were either skipped or overwritten. Either way, that's not what should have happened. I would have expected each version of the album to be in its own separate folder, i.e., "Strange Days", "Strange Days (2)" and "Strange Days (3)".