Roon Core Machine
Roon Nucleus+
OS version 1 (build 254)
Server Version 2.0 (Build 1182)
Hard disk 7393 Gb (87%) - dropping as I type
Roon labs software version 1.0 build 14
Database 100% of 227Gb available
Roon Core Machine
Razer 17 inch laptop intel i7, 32gb ram
Networking Gear & Setup Details
Unifi switch (48 port)
connected by LAN
No VLAN
NO VPN
Connected Audio Devices
Number of Tracks in Library
For now Just This PC and iPhone (sonfs wrk)
Description of Issue
Hi,
I am a new user. Love roon. Loaded songs into roon. Suddenly it is finding files and claims to be doing file copying (for import). It continued copying until my hard disk filled up fully (8Tb). Determined to get it fixed, I fromated the drive, reset the database and reinstalled the OS. I compied only 1000 alboms. Today it is copying files (still). Why ?
I transfer songs from a connected drive on my hard disk to the server via a network. I have removed the drive. Roon still shows it is copying files.
When I first started copying, files (new machine), this did nit happen. It happened after the drive was 50%.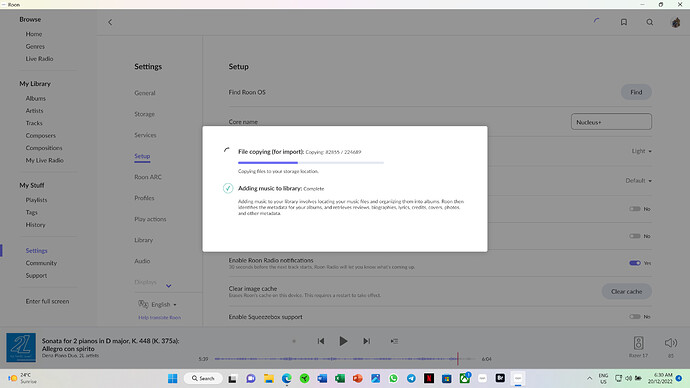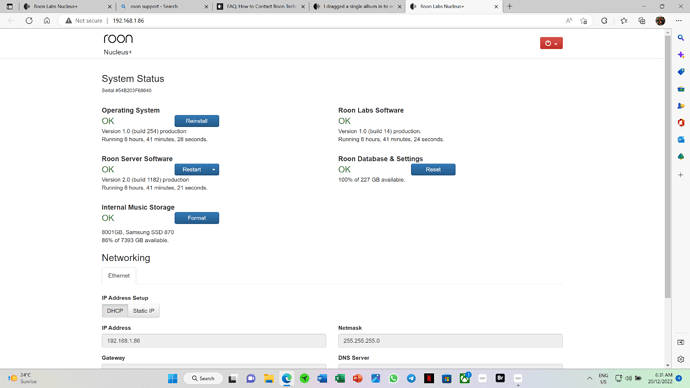 In just a few seconds is seems to have copied so many files (around 30 sec)