Thanks @noris
Happy to work with the technical team, share screen, provide additional diagnostic logs etc.
I'm seeing exactly the same issue after migrating from Mac/iTunes to Nucleus with Internal Storage SSD. After migration, Roon cannot load files stored in folders with names that include accented/special characters. Changing the folder name to eliminate the accented character fixes the problem.
Bjork, Kodaly Quartet, Jose Gonzales, Bela Fleck, Bernard Lagace, Janelle Monae, Jeno Jando are just a few of the problems I've found so far. I have no idea how many album folder names are similarly afflicted. Not sure how to search and replace every special character that causes this.
Folder names all created by iTunes automatically (most recently by OS High Sierra, although my iTunes music library goes back to 2001).
More re my post above: Roon successfully analyzes the tracks and displays the file path in the "file info" display, but won't play the track, showing a "failed to load" message.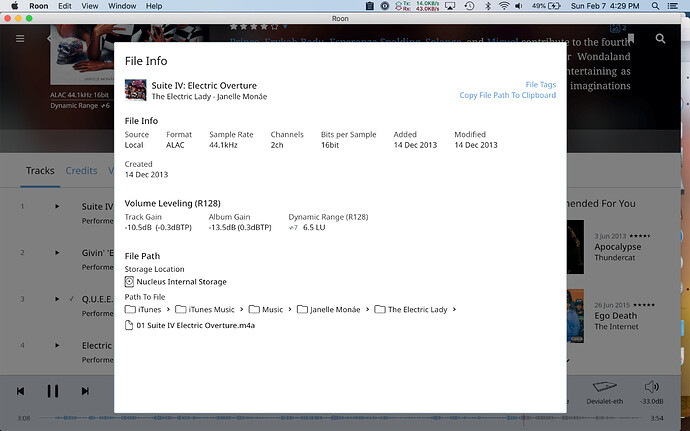 Here's what Roon shows as the filepath via "copy filepath to clipboard": /roon/sys/storage/mounts/InternalStorage/iTunes/iTunes Music/Music/Janelle Monáe/The Electric Lady/01 Suite IV Electric Overture.m4a
Hello @Fred_von_Lohmann1 ,
Thanks for letting us know about the issue on your end as well. There is an existing ticket regarding this behavior, so I have added your report to the ticket. We're looking into this, thanks in advance for your patience!
Same problem here…
Imported files on my iMac using iTunes (now Music) and files are stored on a NAS.
I'm using Roon on Rock (NUC), accessing those files.
They have been imported in Roon library (with all meta data).
But those files with accented characters cannot be read by Roon…
And I have plenty of them.
Noris, I'm sure the team is busy with 1.8 revisions, but please let me know if there's anything I can provide to help move this ticket forward. If there's not a fix forthcoming, I'll probably give up my Nucleus and go back to a Mac mini for my Roon core.
This should also be added to the Nucleus migration document, so others coming from Mac iTunes libraries are aware of this limitation for migration to Nucleus.
Just confirming that this bug also applies when the special character appears in an album folder name (e.g., Live at Sine-é), as well as when it appears in an artist folder name (e.g., Björk).
This is really frustrating, as it causes many tracks to silently get skipped in playlists and shuffle. It's like some of my favorite artists and albums are just disappearing from Roon.
And the bug also applies when the special character appears in the song title, even if there are no special character in any of the folders that contain it (e.g., Rue du Départ).
Any update on this ticket, @Noris?
This being a confirmed bug for over 6 months, I left feedback on the documented migration process that this limitation should be disclosed.
Today Roon cannot play Emilíana Torrini
@noris any update on a fix?
For anyone with DIY inclinations, I'd try on a copied album or ten first.
Thanks @killdozer that's definitely worth looking into. Will give it a try and report back.
Any word on when we might be able to test the preliminary fix?
It should be in the next build.
We don't provide timing information for releases. Sometimes we do, and we always regret it.
As recently as yesterday, I was reminded why we don't give any timing for releases, no matter how vague/loose they are.
Awesome. We will be excited to test the fix when the time comes!
Does it also solve this issue