I ordered the Cirrus7 Nimbini fanless NUC-server and it arrived today. Runs Rock like a charm. The delivery was fast and the unit was very well packed and included two small bags on gummy bears.

I ordered the media version with:
Intel® NUC Comet Lake i7-10710U
1.60 – 4.70GHz HexaCore + Hyperthreading, Intel UHD 620
based on NUC10i7FNH
16GB of Memory and 120GB SSD for the Core.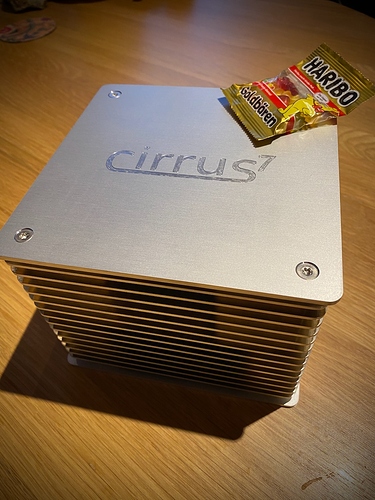 It should actually stand with the Finns vertically, but I took the pictures while it was on its side before I read the manual that stated that the passive cooling works best if the fins are vertically.
"The massive passive cooling including 5 copper cores also provides better cooling than the air-cooled Intel NUC version." Here is cool (pun intended) article on the cooling: